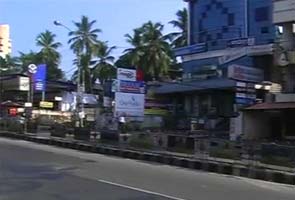 Thiruvananthapuram:
Normal life in Kerala continues to remain crippled with transport hit and many workers skipping work during the second day of the nation-wide strike called by various trade unions. Minor incidents of clashes were reported in Kasargod and Kottayam, where union workers forced some shops to shut down.
The roads remained deserted as buses, taxis and auto rickshaws remained off the road. Schools, colleges, banks were closed, but private vehicles were seen plying on the road.
11 Central Trade Unions along with two State Trade Unions have joined in the strike which has paralysed life in Kerala. All India Trade Union Congress(AITUC) General Secretary for Kerala, Kaanan Rajendran, has said that more than 10 million workers in Kerala have joined this strike despite of the financial loss they will incur in those two days.
Several government employees in the state have joined the strike despite the government taking a tough stand and declaring 'no pay, no work'.
Long queues of cars were seen in few government-run petrol pumps that were open today. Some said they had to wait an hour to refuel their vehicles.
The Trade Unions have put forward a 10-fold demand which includes enforcement of labour laws, minimum wages of Rs 10000 per month, social security coverage for unorganised sector, pension for all, among several others.
Terming the strike in Kerala as a success, AITUC General Secretary said this was the only way to ensure talks would proceed with the government