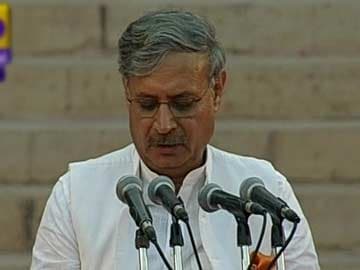 A powerful Ahir leader, Rao Inderjit Singh, 63, is the new Minister of State (Independent Charge) for Planning, Statistics and Programme Implementation and also MoS for Defence.
He quit the Congress and joined the BJP few months before the elections were announced and successfully contested from Gurgaon defeating AAP leader Yogendra Yadav and his nearest Indian National Lok Dal rival.
Mr Singh was a member of the council of ministers in the UPA-I where he served as the Minister of State for Defence Production.
During his stint, Mr Singh pushed indigenous defence production and pushed prestigious DRDO projects including the Arjun tank and LCA.
He was not inducted in the government in the UPA-II amid reports that he had differences with the then Defence Minister AK Antony.
He has also served as Minister of State for External Affairs and chaired the Parliamentary Information technology committee after 2009.
A keen sportsman, he was a member of the Indian shooting Team from 1990 to 2003 and won a Bronze Medal at the Commonwealth Shooting Championship.