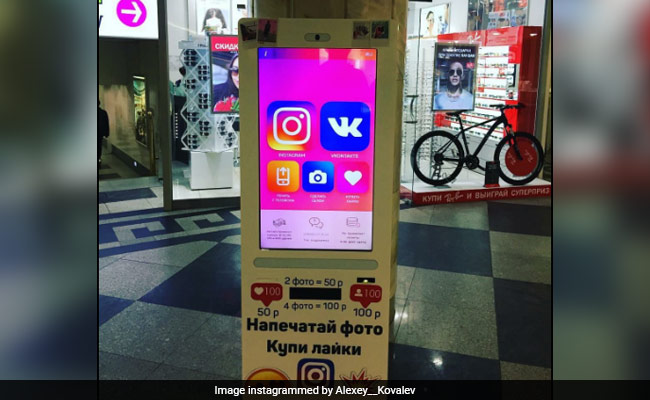 In Russia, you can now buy fake Instagram followers and 'likes' from a vending machine. The vending machine is reportedly located inside the Okhotny Ryad shopping centre in Moscow, according to journalist Alexey Kovalev, who posted a picture of it to Twitter on June 6. According to Mr Kovalev's tweet, 48,000 Russian roubles, or about 54,000 rupees, will buy you 150,000 followers. Each is guaranteed to deliver up to 1,500 likes per post. Too steep? 50 roubles, or about 56 rupees will buy you 100 likes.
Russia takes the worst excesses of capitalism to the extreme, so here's a vending machine in a mall for buying Likes for your Instagram pics pic.twitter.com/ZZt189opgd

— Alexey Kovalev (@Alexey__Kovalev) June 5, 2017
Yes people, this thing is real. On offer: print your Insta pics, buy Insta/Vkontakte Likes/followers (50 rubles / $0.9 per 100 likes)

— Alexey Kovalev (@Alexey__Kovalev) June 6, 2017
Instalike vending machine is for cheapskates. For $850 you can buy 150,000 followers guaranteed to deliver up to 1500 Likes to each post. pic.twitter.com/5V3HTQ4kfl

— Alexey Kovalev (@Alexey__Kovalev) June 6, 2017
Buying fake followers is not all this device can do, it reportedly also takes selfies and prints photos directly from Instagram.
Mr Kovalev tweets the machine is available in several places across Moscow. Russia's
RBC TV
even sent a correspondent to the spot to try it out.
Unsurprisingly, people have a lot of thoughts about the vending machine:
The only thing wrong with this is that people use it.

— Sean M (@Dyna_Sean) June 6, 2017
What a glorious idea. Somebody was very smart and realized how many narcissists would pay to fluff themselves.

— Mom () (@baenfi) June 6, 2017
50 rubles for 100 likes?! Do these machines accept Paypal transfers from Canada?!?!

— eric zaworski (@ericzawo) June 7, 2017
They should be forced to give it to charity instead. People need food more than they need likes.

— Amy Rose (@SushiRollPhan) June 6, 2017
Don't they have a vending machine for buying dislikes or hate? In the current world that would sell more

— Gayatri Raghwa (@gayatri58) June 7, 2017
Click for more
trending news