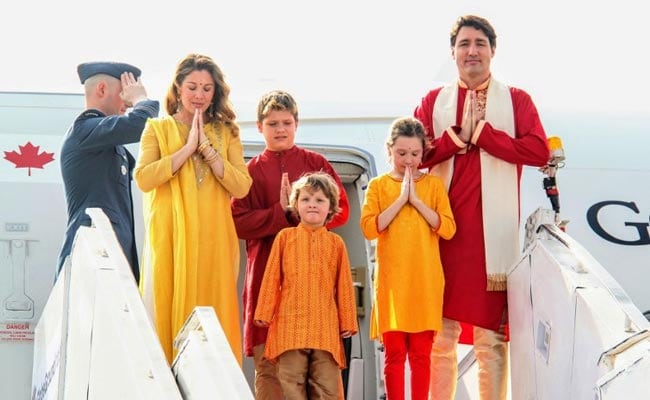 New Delhi:
Canada's Prime Minister Justin Trudeau calls the annual Parliamentary Press Gallery dinner a "chance to mock everyone else's mistakes while downplaying one's own." But this year, Mr Trudeau had a biting take on his own widely-criticised trip to India, complete with a slideshow showing off his various glittering
sherwanis
at public appearances across the country. He even quipped that he was never going on another trip ever again.
During the weeklong trip across India in February,
Canada's First Family dominated headlines in national and international media
for their highly-posed group photos - often in bright, colourful Indian outfits - outside various monuments, their hands pressed together in
namastes
. Former Jammu and Kashmir Chief Minister Omar Abdullah even called out their "choreographed cuteness" on Twitter.
In a speech to journalists and politicians in Canada's capital Ottawa last week, Mr Trudeau joked he had
"repressed" the entire India trip
but his team thoughtfully put together a slideshow showcasing the highlights. "Despite the blaring, negative wall-to-wall international ridicule, it was a pretty good trip," said Mr Trudeau optimistically.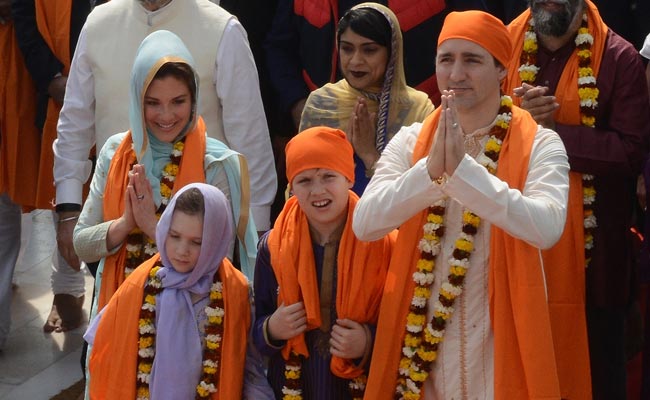 In a light-hearted manner, Mr Trudeau spoke about being received at the Delhi airport by Minister of State for Agriculture Gajendra Shekhawat. "Apparently you people don't get this... this is a very big deal," he said to a round of applause. Political commentators pointed out Prime Minister Narendra Modi did not receive him at the airport (as he has done for other world leaders). It was seen as a snub that
PM Modi did not tweet a welcome to Mr Trudeau as he usually does
(though he eventually did, five days in) and did not accompany the Canadian leader to his home state, Gujarat.
Next up, a photo with Infosys Chairman Salil Parekh, "a company that, for the record, announced new investments in Canada during the course of this trip." Mr Trudeau berated journalists: "But you guys didn't report on it because I was wearing a suit and tie. Boring!"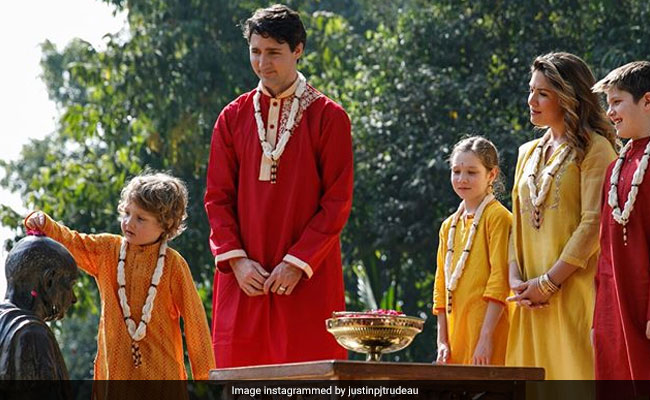 Mr Trudeau's decision to repeatedly wear
kurtas
and
sherwanis
in India came under scrutiny (Washington Post called it his "
razzle-dazzle wardrobe
") and
had social media buzzing with memes
.
In Mumbai, he was photographed standing next to Shah Rukh Khan, dressed in a golden
sherwani
while the actor wore a black shirt and jacket. "Wow! One of us is seriously underdressed," Mr Trudeau remarked, looking at the photo. "How embarrassing for him!"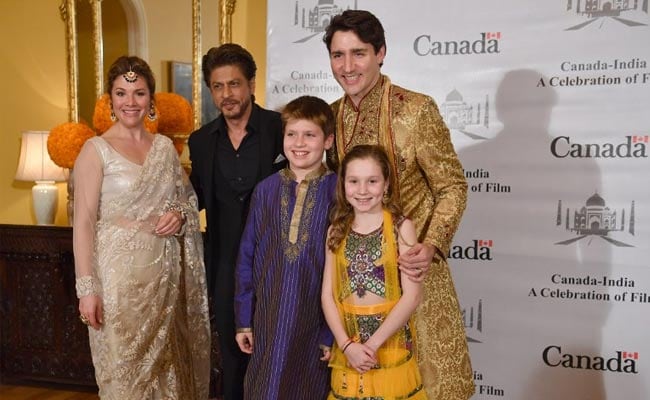 In another photo,
Mr Trudeau's youngest son Hadrien
, hilariously face-planted on floor as the other Trudeaus gathered around to sign the guestbook at Mahatma Gandhi's memorial Rajghat in New Delhi. "At that point, he just totally gave up on the trip," laughed Mr Trudeau.
"That was India, ladies and gentlemen," concluded Mr Trudeau. "The trip to end all trips."
"Seriously, I told my team I'm not going anywhere ever again," he joked.
To watch Justin Trudeau poke fun at his India trip,
click here
.
Briefly speaking to the press in India, Mr Trudeau had said he has "long been known to wear traditional clothes to a broad range of events in different communities in Canada and elsewhere." And it's true: the Canadian Prime Minister has frequently been photographed wearing
kurtas
,
sherwanis
and even a
veshti
.Click for more
trending news