New Delhi:
From
impromptu bhangra dance moves
and staged photo-ops in coordinated clothes, social media has been
buzzing all week
about the Trudeaus' India trip. Canadian Prime Minister Justin Trudeau, his wife Sophie Gregoire and their three children, Xavier, Ella-Grace, and
Hadrien
were photographed for the better part of last week in flamboyant Indian attire that turned Twitter into fashion police. We've complied (almost) all their most-talked about
desi
looks.
Speaking to the press on Friday, Mr Trudeau said he has "long been known to wear traditional clothes to a broad range of events in different communities in Canada and elsewhere." And it's true: the Canadian leader has been photographed wearing
kurtas
,
sherwanis
and even a
veshti
.
But Mr Trudeau's "
razzle-dazzle
"
sherwanis
- outfits traditionally worn on special occasions like weddings and festivals - received mixed reviews from Twitterati. As did the multiple photos of Canada's First Family with their hands firmly pressed in namastes.
The Trudeaus were spotted in Ahmedabad in coordinated red and yellow outfits.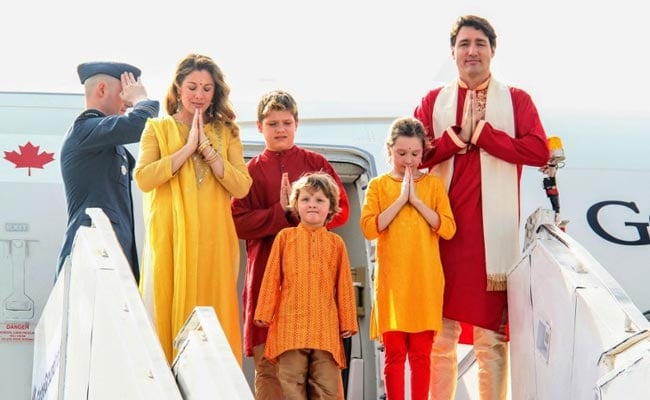 During their visit to Amritsar, where they even
tried their hands at making rotis
, the Trudeaus were dressed in more muted shades.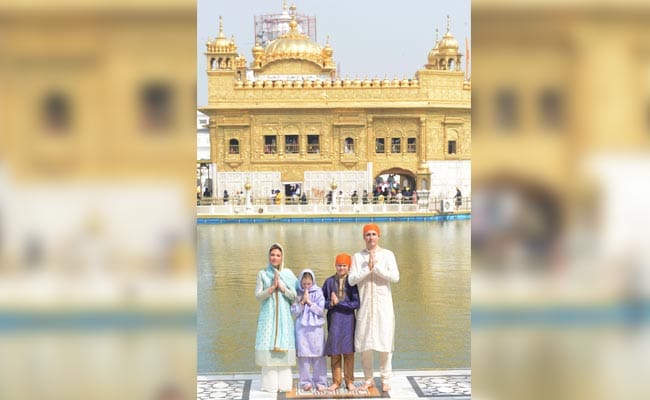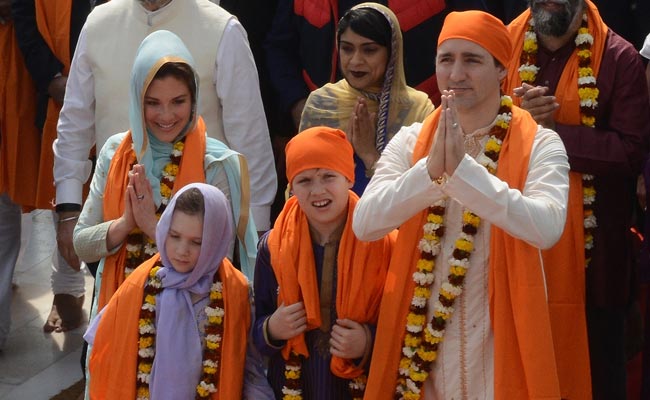 In Mumbai, Mr Trudeau out-blinged most of Bollywood with his gold
sherwani
. His wife opted for a champagne-gold sari complete with
maang-tika
and
chandbali
earrings.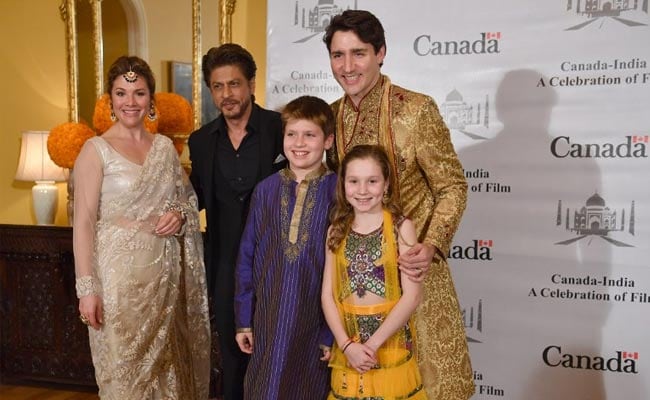 On Thursday, Mr Trudeau, dressed in a black
sherwani
, brought out his best
bhangra
moves at a dinner in Delhi.
Canadian PM @JustinTrudeau makes an entrance at the Canada house in New Delhi. Truly in the spirit of India. @DemocracyNewsLpic.twitter.com/ph19O7ysB4

- Rohit Gandhi (@rohitgandhi_) February 22, 2018
In a viral tweet, former Jammu and Kashmir Chief Minister Omar Abdullah called out the Trudeaus' "choreographed cuteness."
Is it just me or is this choreographed cuteness all just a bit much now? Also FYI we Indians don't dress like this every day sir, not even in Bollywood. pic.twitter.com/xqAqfPnRoZ

- Omar Abdullah (@OmarAbdullah) February 21, 2018
But he wasn't the only one. Many panned the bright, Bollywood-esque clothes Mr Trudeau was spotted in.
Can someone tell him Indians don't live like they are in a Bollywood set 24x7 @vidurkhanna

- Atirav Kapur (@atirav) February 22, 2018
Who's doing Trudeau on SNL this week? (ht @iowahawkblog) pic.twitter.com/vDuQ5lSYdb

- ian bremmer (@ianbremmer) February 23, 2018
Dressed like 'Saas Bahu' serial or actors from Karan Johar flicks.

- Rajiv K Mishra (@rajivjournalist) February 21, 2018
Mr Trudeau,I notice that you are wearing Maanyavar clothes everywhere in India. Please be informed that they are only worn at weddings and functions like Garba!

- Sadhu Journalist (@lutyens_hyena) February 21, 2018
Important questions to ask yourself before stepping out in traditional garb.
Are you of that culture?
Are you going to a wedding?
Are you married to someone of that culture and going to a festival?
If you answered NO to these questions, DON'T PLAY DRESS UP!#Cdnpoli#Trudeaupic.twitter.com/ZqGF8NmVjM

- David Jacobs (@DrJacobsRad) February 21, 2018
The Trudeaus' desi outfits also inspired many memes.
Landlord: I will give my flat for rent only to sanskaari families.

Justin: pic.twitter.com/3cqxIkeChs

- (@Ghair_Kanooni) February 22, 2018
somehow there's always at least one foreigner at Indian weddings taking pictures with all the guests pic.twitter.com/RHN3OI1N2x

- José Covaco (@HoeZaay) February 21, 2018
The Trudeaus starring in KABHI KHUSHI, KABHI HUM. pic.twitter.com/GZjAWQrxy2

- Swapan Seth (@swapanseth) February 21, 2018
But many tweeted their appreciation for the Trudeaus' decision to wear traditional Indian clothes, calling it an attempt to pay tribute to Indian culture and customs.
Justin Trudeau won the hearts of millions #India with his family's choice of Indian clothes. Most of us loved it. Then, a cute photo op at the Taj Mahal.
Justin Trudeau comes across as an honest new-generation politician who embodies the best of young #Canada.#CanadaInIndia

- KABIR BEDI (@iKabirBedi) February 23, 2018
Sir if they want to pay respects to the culture of our country why should one be disturbed. It's a moment they want to enjoy with India and that's it. https://t.co/BJDeZQAfFm

- Ashoke Pandit (@ashokepandit) February 21, 2018
All those criticising @JustinTrudeau 4 making that extra effort 2 adopt Indian ways n clothes should really be ashamed of themselves. Here's a family who is making an effort 2 adopt a country they r visiting. How many of us do that? Well done Mr Trudeau n family. You r fabulous! https://t.co/oowJ3fEqXp

- Prarthna Gahilote (@prattyg) February 22, 2018
Absolutely love it. Shows the respect they have for the country they are visiting. We may not dress like this everyday but no harm in them doing this for a few days :)

- Reena (@RinksB) February 21, 2018
I appreciate his desire to look so beautifully Indian. Mrs Trudeau looks even more stunning in that Saree. Lovely family. @JustinTrudeaupic.twitter.com/xgKXYxQGaD

- Arpita (@arpita_dg) February 23, 2018
I'm not sure what's all the fuss about. Obviously, someone else has created their wardrobe. They have trusted that advice and despite some of it being over the top, I think it's nice of them to wear it. In any case, I think they're all looking really good. Get over it.

- Sarika (@idayre) February 21, 2018
"Choreographed cuteness" or much ado about nothing: what did you think of the Trudeaus'
desi
wardrobe? Let us know in the comments section below.
Click for more
trending news