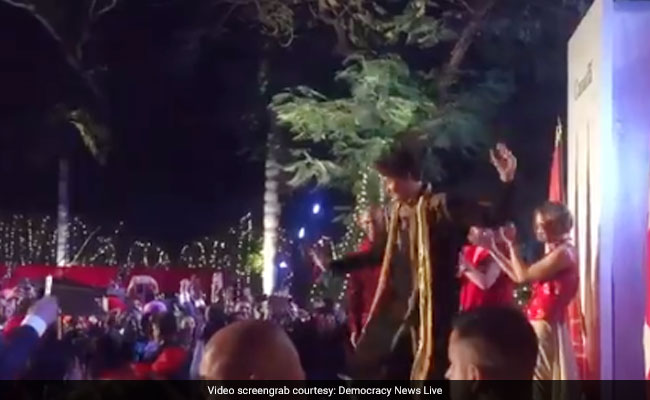 New Delhi:
After a week of sporting
shervanis
and
kurtas
, Canadian Prime Minister Justin Trudeau showed off his Bhangra moves at a dinner in Delhi on Thursday evening. Before taking the stage at the event at Canada House in the capital, Canada's charming premier broke into a Bhangra - something he has been
known to do back home
. Dressed in a black
shervani
and accompanied by wife Sophie Trudeau, the 46-year-old danced to the beats of a
dhol
at a venue that was decked up like a big, fat Delhi wedding. His dancing skills were rewarded with appreciative cheering and whistles from the crowd.
The video was taken by journalist Rohit Gandhi from Democracy News Live. Soon after it was posted, the video became the talking point on Twitter. In 12 hours, the clip has scored nearly 60,000 views.
Watch it here:
Canadian PM @JustinTrudeau makes an entrance at the Canada house in New Delhi. Truly in the spirit of India. @DemocracyNewsLpic.twitter.com/ph19O7ysB4

— Rohit Gandhi (@rohitgandhi_) February 22, 2018
Much like his sartorial choices for the India trip, Justin Trudeau's Bhangra has also drawn mixed reactions among Canadians and Indians.
My friggin' gawd. We may need an extraction team. https://t.co/Q9zWQk8qk7

— Rick Gibbons (@rick_gibbons) February 22, 2018
Can someone tell him Indians don't live like they are in a Bollywood set 24x7 @vidurkhanna

— Atirav Kapur (@atirav) February 22, 2018
Are you serious @JustinTrudeau? Are you trying to get a feature role in a Bollywood film?

— Don Jacyshyn (@djacyshyn) February 22, 2018
I just threw up. I need to unsee that

— Rob Brooks (@Pickfair) February 22, 2018
OMFG... I am ashamed to say this man is our PM. pic.twitter.com/iDcO4Z7ymM

— RotorHead (@RotorHead124) February 22, 2018
He is making even bigger fool of himself. He is an embarrassment to Canada. Please keep him in India.

— wendy simpson (@rottiemom65) February 22, 2018
Somebody should remind him every 10 minutes that he is a PM.

— The Dark (@DumLagaKeDauda) February 23, 2018
Please Please Please India keep him

— jacquie (@jacquie_1959) February 22, 2018
Some were impressed and somewhat smitten
Damn, those are pretty awesome bhangra moves. Not easy to do. https://t.co/ic9jbd6EBK

— Krishan Partap Singh (@RaisinaSeries) February 22, 2018
Trudeau dancing Bhangra lmaoooooooooooo he dances it better than me

— Lexa (@xiaxiaxx) February 22, 2018
Wow... ab sach me lag raha hai.. humare India k bhangra ja jadu Canada walo k upar khub chada hai..

— Anamika (@Anamikakumari44) February 23, 2018
Justin singh at its best

— Sahil Rattan (@iamrattan15) February 23, 2018
The Trudeaus landed in India last week and have so far visited the Taj Mahal, Ahmedabad, Mumbai and
Amritsar
. Canada's First Family's fashion choices have been panned by many as too... umm Bollywood. Justin Trudeau and his family have sported groom-like
shervanis
and heavily embroidered
kurtas
and
sarees
.
The Canadian Prime Minister today is
meeting
Indian Prime Minister Narendra Modi. Ahead of their meeting, Prime Minister Modi posted a
throwback photo with his Canadian counterpart
and his nine-year-old daughter Ella-Grace Margaret. Responding to PM Modi's tweet, Mr Trudeau said his daughter remembers the meeting well.Click for more
trending news