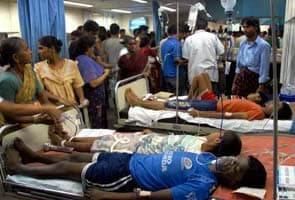 Mumbai:
Holi celebrations in Mumbai turned sour when over 200 people, most of them children, suffered colour poisoning. Many of them were hospitalised following allergic reactions. The incident occurred in Shastrinagar area of Dharavi this afternoon when Holi celebrations were in full swing.
Toxins in the colour are said to be the cause of the infection. Patients reportedly suffered from dizziness after Holi celebrations and were rushed to the Lokmanya Tilak municipal general hospital at Sion.
"The affected persons complained of giddiness and vomiting," a hospital official said.
Some cases were serious on admission but are now stable after treatment, he added.
Those hospitalised include children aged 9-10 years.
(
With PTI Inputs
)