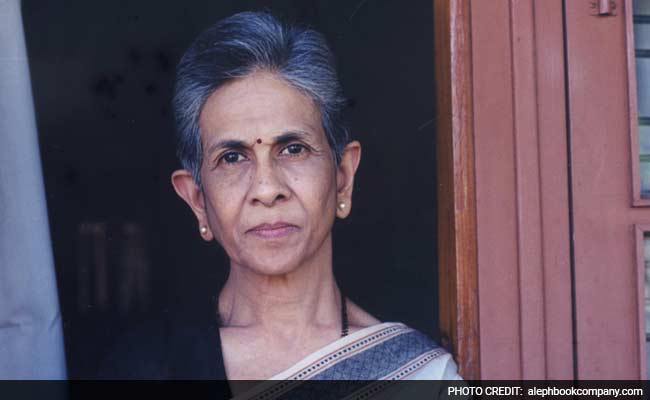 New Delhi:
Novelist Shashi Deshpande today offered her resignation from the Sahitya Akademi General Council denouncing "growing intolerance" in the country, joining a protest by writers and poets who have resigned and turned down honours in recent weeks.
Earlier, noted writers Nayantara Sahgal
and
poet Ashok Vajpeyi had returned
their literary honours to protest what they termed as an "assault on right to freedom of both life and expression".
Urdu novelist Rehman Abbas also announced today that he would be returning the Maharashtra State Urdu Sahitya Academy Award to protest what he termed "injustice surrounding us".
In a letter to the President of the Sahitya Akademi, India's premier literary body, Ms Deshpande said, she "deeply distressed by the silence" of the Sahitya Akademi on the murder of rationalist writer MM Kalburgi.
"I do this with regret, and with the hope that the
Akademi will go beyond organising programmes
, and giving prizes, to being involved with crucial issues that affect Indian writers' freedom to speak and write," Ms Deshpande said.
Ms Deshpande is a recipient of Sahitya Akademi Award for the novel That Long Silence in 1990 and the Padma Shri award in 2009.
Mr Rehman Abbas, who had won the award for his third novel Khuda Ke Saaye Mein Aankh Micholi in 2011 said he was returning the honour condemning the
killing of a man by a mob in Uttar Pradesh's Dadri over rumours that he had eaten beef
.
"After the Dadri lynching,
the Urdu writing community has been quite unhappy
. I have decided to return the award. There are some other Urdu writers who also want to join the protest. It is high time we stood up to the injustice surrounding us," he said.