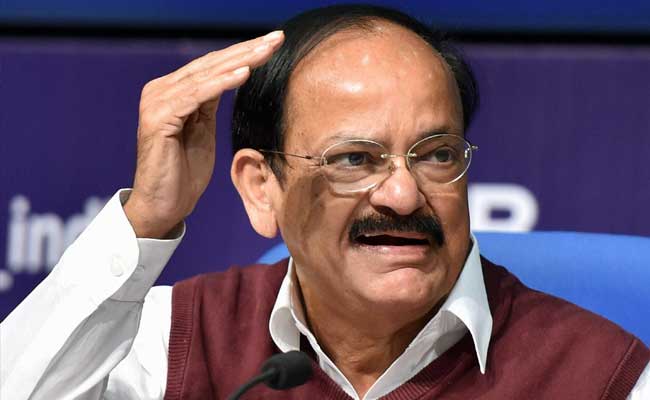 Union Minister Venkaiah Naidu today rejected the Congress' allegation that a report by the Dhingra commission, which investigated alleged irregularities in land deals in Haryana including one involving a firm owned by Sonia Gandhi's son-in-law Robert Vadra, was leaked.
"We don't have the habit of leaking out... This government believes in transparency and does not interfere in the legal process. We don't run after individuals," Mr Naidu said.
The minister said he didn't have any information on the Dhingra panel report.
A media report has claimed that the panel has indicted Mr Vadra for making a huge profit from a controversial land deal in Haryana in 2008. It also claims that a land purchase by his wife and Sonia Gandhi's daughter Priyanka Gandhi Vadra in Faridabad is mentioned in the Dhingra report.
Congress spokesperson Abhishek Manu Singhvi said, "They are only targeting specific names and leaks are also selective. They have the report... the centre and state governments are leaking it."
To which, Mr Naidu scoffed, "They may be speaking of their own past experiences (of leaking reports)."
The minister said the government will take action based on the report.
After the BJP came to power in Haryana, retired Justice SN Dhingra was asked in 2015 to examine nearly 250 land deals during the Congress' term in power. In August last year, he told NDTV that government officials and private individuals have both been indicted for colluding in illicit land deals.
Last evening, Priyanka Gandhi Vadra
said in a statement
that she had "no relationship whatsoever" with the finances of Robert Vadra or his company Skylight Hospitality.
In a statement put out by her office, Ms Vadra, said she was responding to the questions of a journalist "in relation to my husband in which it was alleged that I had acquired properties with illegally acquired funds".
Ms Vadra in her clarification denied that she used a part of the money from the Skylight-DLF deal to buy land in Faridabad in Haryana.
She referred to five acres she bought in Amipur in Haryana's Faridabad - she said it was bought six years before Mr Vadra's controversial deal - and said she paid Rs 15 lakhs, entirely by cheque, using rent money from a property she had inherited from her grandmother Indira Gandhi, former prime minister.
"Any allegations made by the Economic Times in this purported article and/or any headline which besmirches the reputation of Smt Priyanka Gandhi Vadra will appear to be based upon certain questionable documents and represent a deliberate, politically motivated and malicious campaign to besmirch and destroy her reputation. They will be entirely false, utterly baseless and defamatory," said the statement.