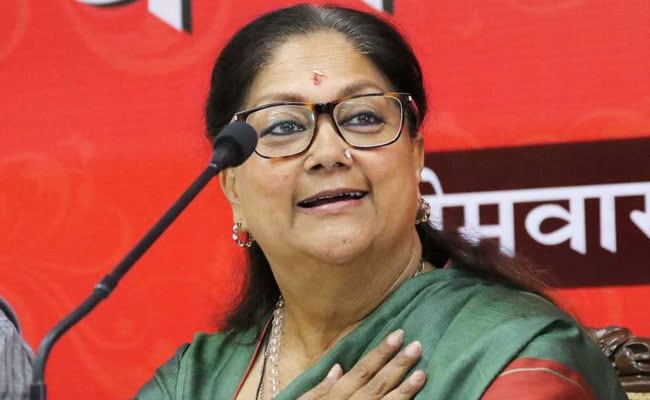 Jaipur:
Rajasthan Chief Minister Vasundhara Raje will be the BJP's chief ministerial candidate in the upcoming assembly elections in the state, party president Amit Shah said on Saturday.
"The assembly election will be contested under her leadership and she will again become the chief minister with a thumping majority," he said at the concluding session of the BJP's state working committee meeting.
"The party will once again form governments in Chhattisgarh and Madhya Pradesh also," Mr Shah added, referring to other assembly elections to be held later this year.
He asked party workers to remain dedicated and work hard to ensure that the BJP retains power in the state and also wins the 2019 Lok Sabha elections, according to a press statement.
Mr Shah said the welfare schemes launched by the Raje government have been appreciated across the country and suggested that party workers should base the election campaign on them.
Ms Raje exuded confidence that the party will get more seats this year than in the last assembly elections, and will also win all the 25 Lok Sabha seats in 2019, the statement said.
The working committee meeting began yesterday but Mr Shah came to Jaipur today to address the concluding session.
Suman Sharma, chairperson of the state commission for women, told reporters that Shah gave a "clear message" that Ms Raje will be the party's chief ministerial face.
MLA Ashok Parnami said Shah urged that every BJP worker should dedicate 18 hours a day for the party for the next few months.
"The party workers are full of energy and fully charged," Parnami said.
State Housing and Urban Development minister Shrichand Kriplani claimed the BJP will get than 180 of the 200 assembly seats in the elections due later this year.
Mr Shah also attended a function in the city for the wedding of Union minister Narendra Singh Tomar.
Union Home minister Rajnath Singh also arrived here in the evening for the wedding function.
Addressing a separate meeting of the Rajasthan BJP's social media cell, Shah said the party's cyber warriors would set the agenda of the elections.
He asked them to take the work done by the central and state governments among the masses through social media.
During his meetings, Mr Shah accused the Congress of playing "negative politics".