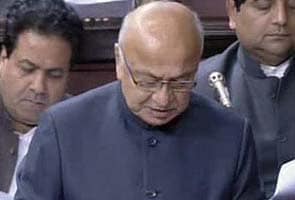 New Delhi:
Amid national anger over the gang-rape of a medical student in Delhi in a moving bus, Home Minister Sushil Kumar Shinde outlined for parliament how the government plans to increase the safety of women in the capital
The minister said a new committee, headed by the Home Secretary, will evaluate what needs to change, based partly on suggestions made in parliament today by members of the opposition.
He also said that routes used often by women at night are being identified and will be patrolled at night by police vans and cops on motorcycles.
Call centres have been ordered by the police to ensure that women workers being dropped home after late shifts are escorted to their door-step.
Mr Shinde also said that a proposal will be made to fast-track the trial in Sunday night's case with daily hearings to ensure that justice is delivered quickly.
In parliament today, upset members of the opposition attacked the government. Leader of the Opposition Sushma Swaraj said Sunday night's heinous attack proves that rapists must be given the death penalty.
The woman attacked on Sunday night is conscious now in hospital but remains in critical condition, her doctors said, adding that she has serious injuries in her intestines and private parts.
On Sunday at 9.30 pm, the 23-year-old and her friend boarded a bus in South Delhi after watching a movie. For nearly an hour, the woman was gang-raped by six people. Four of those men have been arrested; two have yet to be tracked down, Police Commissioner Neeraj Kumar said today.
The bus that was used was run by a private operator and was used by two private schools. On Sunday night, the driver and his friends "were on a joyride", the commissioner said, when they came across the couple at a bus stop.
The men on the bus taunted the woman for being out at night with a man. When he tried to protect her, they attacked him with an iron rod. The medical student tried to help him, but was beaten and then gang-raped. The couple was thrown, semi-naked, from the bus at about 11 pm.