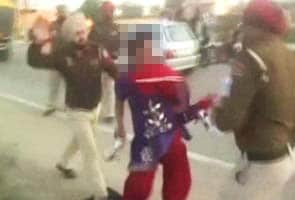 New Delhi:
A month after two Punjab Police constables were caught on camera brutally thrashing a young woman in Tarn Taran, the Supreme Court today slammed the state government for not taking corrective action.
Taking a strong note of the incident, the court directed the Punjab government to provide security to the woman. The top court, however, said that instead of state police, the woman should be given security by other agencies.
The court also rejected the District Magistrate's report which said such incidents do happen in Punjab. The court said the report is misleading and factually incorrect. "We can't retrieve the dignity of the lady except to put balm on her feelings," said the judges.
"We will put the report in the dustbin. It goes by the character of the person who prepared the report," the court said. And once again highlighting the lack of safety for women in India, the court said, "We are bothered about what happens daily on the streets - helpless women are beaten up mercilessly."
The woman had alleged that policemen started beating her up after she approached them to complain about harassment by a truck driver. The whole incident was caught on camera; the case was taken up by the Supreme Court suo motu or of its own accord last month.
Today, expressing its views on the police recruitment, the court said, "No selection of police takes place without money. Unless we have independent mechanism for recruitment and training we can't solve this issue."
Angry judges also hinted at imposing a huge fine on Punjab Police.
The Punjab and Haryana High Court had last month ordered immediate transfer of eight police personnel allegedly involved in the assault case.