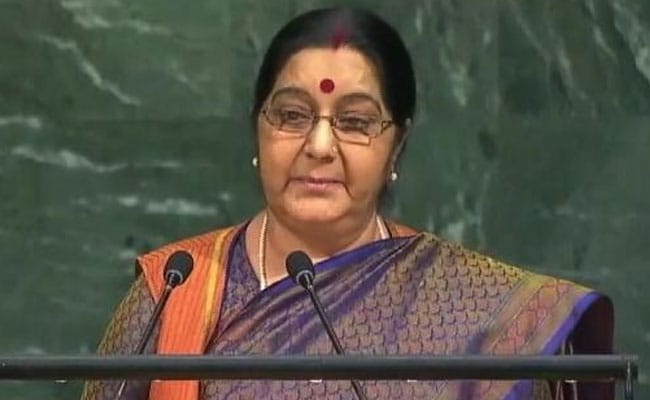 UNITED NATIONS:
External Affairs Minister Sushma Swaraj slammed Pakistan in her address at the United Nations General Assembly in New York on Saturday. Ms Swaraj raised issues like the global fight against terrorism, climate change and the Security Council's reform in her address. Directing her remarks at Pak Prime Minister Shahid Khaqan Abbasi, she said the nation should introspect how it emerged "export factory for terror". Ms Swaraj called on world leaders to gain common ground in acting against global terrorism. Like last year, Ms Swaraj delivered her speech in Hindi. Yesterday, Ms Swaraj and the US Secretary of State Rex Tillerson discussed a wide range of bilateral issues, including the situation in the neighbourhood and the Indo-Asia Pacific region.The minister spent a major part of her day on Friday giving final touches to her speech.
Here are the highlights on Sushma Swaraj's speech at UN General Assembly:
Swaraj calls for early start of negotiations for UNSC reforms
India today called for an early start to text-based negotiations for UN Security Council reforms minister Sushma Swaraj expressing hope that a revamp of its top organ will be a "priority" for the world body.
In 2015, the UN General Assembly had adopted a negotiating text by consensus for long-pending UN Security Council reforms, setting the stage for talks on the issue. "Efforts at text-based negotiations on the reform and expansion of the Security Council were initiated in the last
session and more than 160 nations had expressed support for this effort. If we are serious, then the least we can do is produce one text that can be the basis for negotiation," Ms Swaraj said.