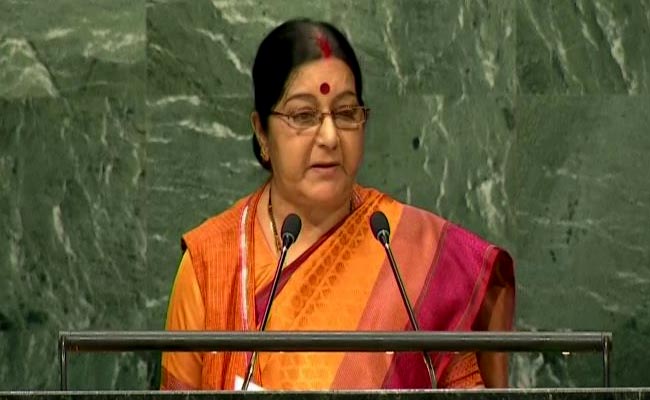 At the meeting of the United Nations General Assembly today, Foreign Minister Sushma Swaraj is expected to deliver a stinging response to Pakistan Prime Minister Shahid Khaqan Abbasi, carrying forward New Delhi's effort to diplomatically isolate Pakistan. Setting the tone for the takedown of Pakistan at the international meet, an Indian diplomat had told a UN meeting on Thursday that Pakistan had become synonymous with terror, or "Terroristan" (land of terror). Apart from terrorism, Ms Swaraj will also outline the India's vision on crucial issues such as climate change, people centric migration and UN reforms.
Here is your 10-point cheatsheet to this story:
Sushma Swaraj is likely to speak on terrorism, especially against Pakistan, among other important issues. India on Thursday had said Pakistan is now "Terroristan" -- the land of pure terror.
"The number of threats and incidents that endanger South Asia's peace and stability are on the rise," Ms Swaraj had said in her opening statement at the South Asian Association for Regional Cooperation foreign ministers' meeting yesterday. She is likely to continue speaking on security issues when she addresses the UN General Assembly today.
Ms Swaraj, pre-empting Pakistan Prime Minister Shahid Khaqan Abbasi's address on Thursday, had pointed out terrorists continue to find shelter in countries using terrorism as an "instrument of state policy".
The Pakistan Prime Minister had devoted much of his first address to the UN General Assembly to accusing India of terror against his country and "war crimes" in Kashmir.
India has caustically described Pakistan as a country whose counter-terrorism policy was to "mainstream and upstream terrorists" by either providing safe havens to terror leaders in its military town or protecting them with political careers -- a reference to Osama bin Laden.
India attaches highest priority to development and prosperity of the region under its "neighbourhood first" policy, Sushma Swaraj said in a statement yesterday.
The external affairs minister has called for terrorists' funding, their weapon supply, training and political support to be systematically cut off.
Sushma Swaraj has asked the BRICS grouping comprising Brazil, Russia, India, China and South Africa to condemn efforts, including by states, of using religion to sponsor terrorism against other nations.
The Comprehensive Convention on International Terrorism or CCIT was proposed by India in 1996 to enhance prosecution and extradition of terrorists.
Established in 1945 under the Charter of the UN, the General Assembly occupies a central position as the chief deliberative, policymaking and representative organ of the UN.