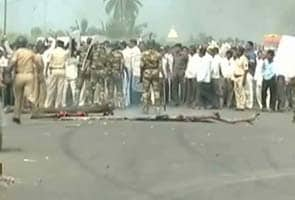 Kolhapur/Sangli:
Angry protests by farmers have spread in Maharashtra as their demand for better prices for sugarcane became louder. Farmers and police battled each other in Kolhapur, Satara and Sangli districts today, after a Diwali respite on Tuesday. A police jeep was set on fire, several state-run buses were damaged and policemen were stoned after they lathicharged protesting crowds. In Sangli town, police also fired in the air to control the protesters, allegedly injuring a farmer in the leg. A farmer had died, reportedly in police firing, on Monday.
Farmers in the sugarcane belt of Maharashtra have been demanding a share in the profits of sugar factories, claiming that the Rs. 2,300 for a ton of cane that they get is too little. They want Rs. 3,000 a ton, which the factory owners are resisting; many influential politicians from the ruling Congress and the Nationalist Congress Party (NCP) own sugar mills here. Maharashtra Congress chief Manikrao Thakre appealed to factory owners to "drop their hidden agenda" and talk to the farmers so that the best price can be offered, Press Trust of India reported from Yavatmal in Maharashtra.
The protest turned violent on Monday after the detention of Independent MP Raju Shetty, who is leading the agitation. Mr Shetty had to be sent to the Yerawada central jail in Pune when he refused bail.
Sensing an opportunity, activist-turned-politician Arvind Kejriwal has squeezed himself into the volatile situation, alleging in New Delhi that the Maharashtra government is neglecting farmers' interests because politicians are closely linked to the sugar lobby and industry. He tweeted today, "How many sugar mills in Maharashtra owned by NCP men, BJP men, Cong people? Which ministers own sugar mills? That data wud explain why govt not giving better sugarcane prices and favoring sugar mill owners (sic)." Many of the sugar mills are owned Congress and NCP politicians and their families.
Team Kejriwal is headed to Maharashtra, where it says it will take up the farmers' cause. Mr Kejriwal had earlier announced that he would meet Mr Shetty in prison, but was told he would need to apply for permission first.
As the protests continue, leaders of the agitation threatened that it would now spread further across the region. "We can stop the supply of sugar, milk and vegetables to cities also," Raghunath Patil of the Shetkari Sangathana, one of the three participating farmers' bodies, said.
Yesterday, Chief Minister Prithviraj Chavan had met the protesting farmers in his hometown of Karad and had appealed to them to call off their agitation. He said the prices of sugarcane would be determined only after a discussion in the state assembly during the upcoming winter session.
Senior Congress leader from the region, Patangrao Kadam, visited the family of the farmer killed in police firing in Sangli and also promised an inquiry, but farmers are still demanding a case be registered against the police.