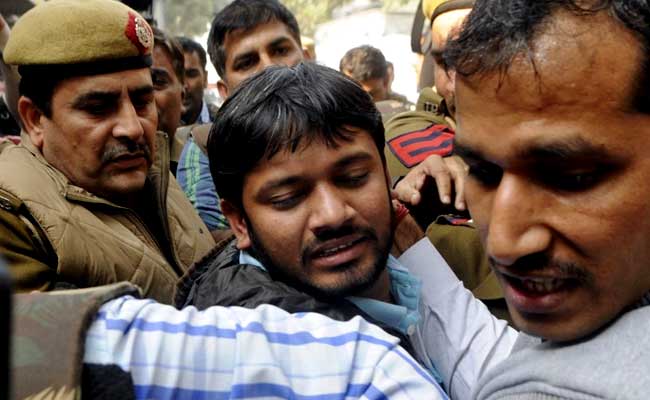 New Delhi:
Coming out in support of JNU students' union president Kanhaiya Kumar, arrested in a sedition case, students and teachers of several international universities, including those from University of California and Yale, are narrating his "seditious" speech in English and uploading their videos online.
Eleanor Newbigin, University of London, says in a video, "I have never been a student of JNU but I have interacted with students from the university. I am narrating an excerpt from Kanhaiya's seditious speech.
"Some people are saying JNU runs on taxpayers money. Yes, it does. But I want to raise the question: what are universities for? Universities are there for critical analysis of the society's collective conscience. Critical analysis should be promoted. If universities fail in their duty, there would be no nation. If people are not part of a nation, it will turn into a grazing ground for the rich, for exploitation and looting," Ms Newbigin says in the video quoting from Kanhaiya's speech.
Dora Zhang and Damon Young, University of California, Berkeley say in joint video, "We challenge the RSS's definition of justice. We say your vision of justice has no place in it for our vision of justice. We will believe in freedom and justice on that day when every person is freely able to exercise constitutional rights."
Asserting if Kanhaiya's speech was seditious, then all those narrating it should also be penalised, Greta LaFleur from Yale University continues with her narration from the transcript of Kanhaiya's speech.
"Call us and hold a debate. We want to debate the concept of violence. We want to raise questions about the frenzied slogans, their slogan that they will do
tilak
with blood and
aarti
with bullets. Whose blood do they want to spill?
"They aligned with the British and fired bullets on the freedom fighters of this country. They fired bullets when poor people demanded bread; they fired bullets when people dying of hunger talked about their rights; they have fired bullets on Muslims; they have fired bullets on women when they demand equal right and they are now distributing certificates of patriotism," she says.
Over 400 academicians from international varsities, including Columbia, Yale, Harvard and Cambridge, have also come out in support of Jawaharlal Nehru University students agitating against a row over an event on the campus.
Kanhaiya Kumar was arrested on February 12 in a sedition case in connection with an event against hanging of Parliament attack convict Afzal Guru where anti-national slogans were allegedly raised.
While the students and teachers supporting Kanhaiya have condemned raising of anti-national slogans, they claim the slogans were not raised by him and there was nothing seditious in his 26 minute speech rendered a day later.