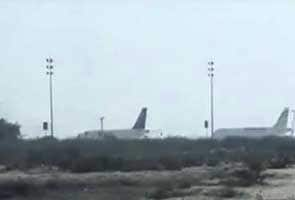 New Delhi:
A special plane from India carrying 128 people, whose Air India flight made an emergency landing in Nawabshah in Pakistan early this morning, has arrived in New Delhi.
There were 122 passengers and six crew members on board an Air India flight from Abu Dhabi to Delhi when their pilot was forced to make an emergency landing after the Airbus 319's three hydraulic systems failed. Unusually, none of the back-up systems kicked in.
There are three hydraulic systems for these planes - two main and a back-up. They are critical for virtually every vital function of the plane - its landing gear, steering and brakes. If either of the main ones over-heat, the back-up steps in. The collapse of all three systems is so rare that pilots usually practice to deal with the failure of a maximum of two hydraulic systems. Sources say a possibility is that the computer systems malfunctioned, showing all three systems as over-heating, when that was not the case.
The Aviation Ministry is expected to provide a report on the incident to the Prime Minister's Office today. In New Delhi, an Air India spokesperson said: "The aircraft was flying over Pakistan air space when the pilot saw a warning light in the cockpit and sought permission to land at the nearest airport which was Nawabshah."
Eight Air India engineers have been sent to work on the plane that was stuck in Pakistan.
The captain preferred to have the passengers remain on board the aircraft though Pakistani authorities had offered to allow them to disembark, Pakistan's Civil Aviation Authority spokesman Pervez George said.