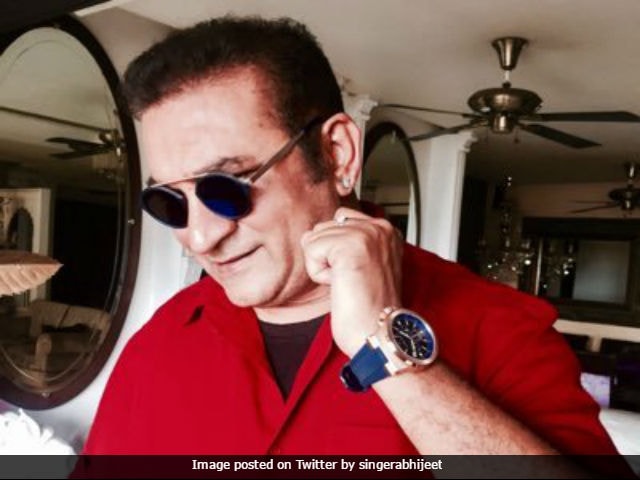 Highlights
Abhijeet re-joined Twitter with a new unverified account
Abhijeet alleged that people are trying to 'curb' his voice
Abhijeet said he will denounce those people who criticize the country
New Delhi:
Singer Abhijeet Bhattacharya is back on the micro-blogging site Twitter
after his account was suspended by Twitter last week for offensive tweets against certain female users. The 58-year-old singer re-joined the micro-blogging site with a new unverified account on Monday and posted a video. In the video, a defiant Abhijeet Bhattacharya alleged that people are trying to 'curb' his voice. He added that he will denounce those people who criticize the country and the Indian Army. "I have started this new Twitter account till my verified account is not active again. You can only follow me on this account the rest are fake. They are causing me trouble.
Boliye jai hind, bharat mata ki jai. Vande Matram
. I am back. We will together eliminate all those who raise their voice against the country," said Abhijeet Bhattacharya.
Watch the video shared by Abhijeet Bhattacharya here:
#VandeMatram
I am back #Antinationals can't stop my voice,
salute to #IndianArmy.
this is my new twitter account..rests r fake pic.twitter.com/MMWiFBKa9d

— Abhijeet (@singerabhijeet) May 29, 2017
Abhijeet Bhattacharya's Twitter account was suspended last week after a tweet he posted about JNU student and activist Shehla Rashid was reported.
In a recent interview to news agency PTI, Mr Bhattacharya also accused author Arundhati Roy, who actor-politician Paresh Rawal tweeted about, of having his account suspended. "All Arundhati and JNU group behind this after Paresh Rawal and I tweeted against Arundhati for her anti-India stand," PTI quoted Abhijeet Bhattacharya as saying. Mr Rawal's controversial tweet suggested that Ms Roy be 'tied to a jeep.'
A day after Abhijeet Bhattacharya's account was suspended, his colleague Sonu Nigam quit Twitter
, explaining in 24 tweets that he was saddened by what he perceived as a lack of freedom of speech. Mr Bhattacharya and Mr Rawal are equally entitled to their opinions, he said.
On Saturday, filmmaker Ram Gopal Varma also quit Twitter and said he will now remain active on Instagram.
Abhijeet Bhattacharya started his Bollywood career in 1990 with the film
Baaghi
. He has sung for films like
Om Shanti Om
,
Gangster
and
Dhoom
. In the Nineties, Mr Bhattacharya sang for actors like Shah Rukh Khan, Saif Ali Khan and Akshay Kumar.
(With PTI inputs)