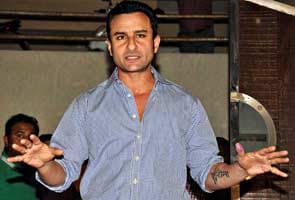 Mumbai:
Actor Saif Ali Khan's counter complaint against Iqbal Sharma, the man who claims that the actor assaulted him and fractured his nose at a restaurant in Mumbai late on Tuesday night, does not stand, police sources have told NDTV.
In his complaint last night, Saif alleged that Mr Sharma's father-in-law punched him first and that the duo abused the women who were accompanying him at the restaurant. The actor alleged that his eye was swollen after he was punched. After studying the application, police sources say the actor's injuries cannot be ascertained as he has not backed it up with a medical certificate. The police, sources add, have examined 15 people so far, which includes Mr Sharma's father-in-law and the waiters at the restaurant. (
Top 10 developments
)
Yesterday, at around 7:50 pm, Saif was arrested by the police at his lawyer's office based on the complaint filed by Mr Sharma. Girlfriend and co-star Kareena Kapoor accompanied him. Around 90 minutes later, he left the Colaba police station after having paid Rs. 15,000 and being granted bail.
Mr Sharma, a businessman from South Africa, says he was seated at the table next to Saif and his group at Wasabi, the uber-fancy restaurant at the Taj hotel in Colaba. The actor had other Bollywood friends with him - Kareena Kapoor, Kareena's sister Karisma Kapoor, actor Amrita Arora and her husband, Shakeel Ladak, and Bilal Amrohi, a producer.
In his version of events, Mr Sharma says he sent a note to Saif's table, asking his group to talk a little softer. "They were making a lot of noise. And we asked the management to ask them to be quiet so that we could also enjoy our evening. This failed on about three occasions at least." Mr Sharma says his family and he decided to leave the restaurant; on their way out, they ran into Saif who had left Wasabi and was on his way back in. At this point, Mr Sharma says, Saif struck. (Watch:
The man whose nose Saif allegedly fractured
)
But the actor says that's not the case. He claims he was hit first and so he acted in self defence. He adds that Mr Sharma was rude to the women at his table and that when he intervened, Mr Sharma threw the first punch. "I acted in self-defence. I was hit...I've got hit on the eye," he said in a press conference on Wednesday evening. Earlier, in a press statement released just after he got bail, Saif said, "I don't think any gentleman would have behaved differently. The CCTV footage in the restaurant will prove everything."
(Full text of Saif's statement to the police)
Saif's home production, Agent Vinod, releases on March 23. It co-stars Kareena.