New Delhi:
The BJP has stepped up its attack on Congress president Rahul Gandhi for his remarks on Prime Minister Narendra Modi, in connection with the Rafale deal and the Reserve Bank of India's report on demonetization. Referring to the Congress president, union minister Mukhtar Abbas Naqvi said the "king of scams can only see scams around him. He is unable to see the development and good governance in the country."
Rahul Gandhi's political journey from "Pappu to Gappu is full of lies" and that is why he is making such "bizarre statements against the government," Mr Naqvi told news agency ANI.
Earlier in the day, the BJP accused the Gandhis of "looting the country." BJP spokesperson Sambit Patra, while addressing a press conference in the capital said, the Congress is making so much noise because "all the money they looted became worthless post demonetization."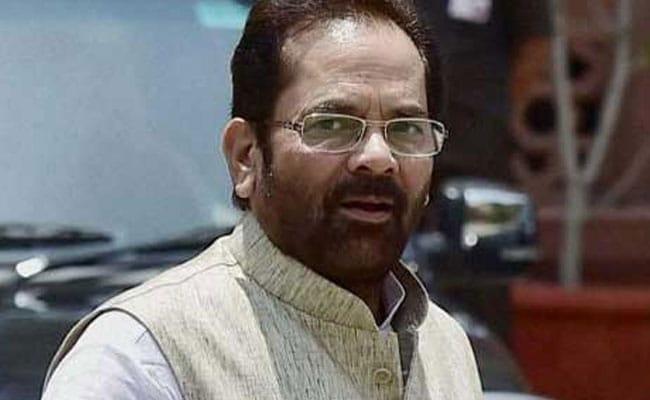 King of scams can only see scams says union minister Mukhtar Abbas Naqvi on Rahul Gandhi
"The Gandhi family has looted public money for years, and after demonetization, that money is of no use and hence demonetization has affected Rahul Gandhi and his family, and he always repeats the same thing on the matter," said Mr Patra, adding that Mr Gandhi "came across as a very non-serious political player, with nothing new to offer."
The Congress chief's Kailash Mansarovar trip has also come under heavy criticism from the BJP. The party questioned what is the reason for Mr Gandhi's "new found love" for China. "Rahul Gandhi, who is now in Nepal, will travel to China... and now plans to meet the Chinese... His meetings cannot be secret... We expect Mr Gandhi to keep the government informed as to who he is meeting," said the BJP spokesperson.
The Congress has hit back saying why is the BJP and PM Modi so "perturbed by Rahul Gandhi's trip to Kailash Mansarovar?" Spokesperson Randeep Surjewala said, "Do they not know where Kailash Mansarovar is? Do they not know that Kailash Mansarovar is in the autonomous region of Tibet and China?"
"An unnerved PM and a rattled BJP have shown their parochial, hateful mindset by mocking this sacrosanct religious journey of Rahul-ji to Kailash. BJP calling this auspicious yatra "honeymoon tourism" is the vilest attack on Hindu faith and belief," said Mr Surjewala.
On Thursday Mr Gandhi took potshots at the Prime Minister over the Rafale deal. In a tweet he said "Globalised corruption. This Rafale aircraft really does fly far and fast! It's also going to drop some big bunker buster bombs in the next couple of weeks. Modi Ji please tell Anil, there is a big problem in France." Mr Gandhi also accused the Prime Minister of implementing demonetization to help "crony capitalist friends".
(With inputs from ANI & PTI)