Hyderabad:
Just before
Rahul Gandhi
addressed a massive sit-in at Hyderabad, a student urged him, "Don't politicize this as Congress vs BJP. We are fighting only for justice for Rohith Vemula ."
Mr Gandhi was not persuaded. A few seconds later, he said the Vice Chancellor of the Hyderabad Central University and "the Minister in Delhi"
must be held accountable
for the suicide of Mr Vermula, a Dalit student found hanging two days ago in the hostel that he had been banned from.
"This youngster came (here) to improve this country, who came to learn, to express himself... but he was put in so much pain, that he had no other option but to kill himself," Mr Gandhi declared.
"He has committed suicide, but the condition for his suicide was created by the Vice Chancellor, the minister in Delhi, and the institution," he alleged,
without naming Smriti Irani,
whom he defeated in 2014 in the parliamentary election from Amethi in Uttar Pradesh. Ms Irani is the Education Minister.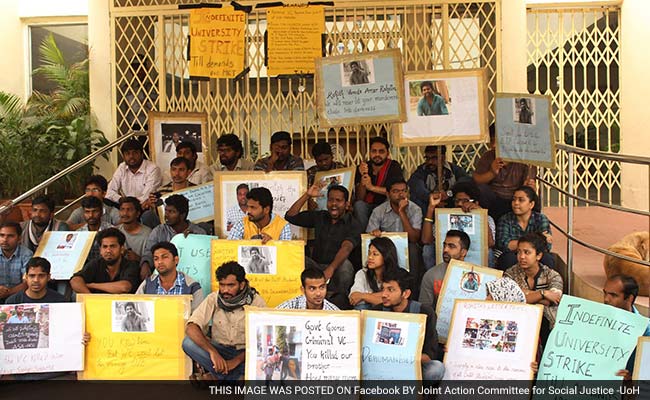 Two weeks before his death, Mr Vermula, a Dalit student,
was forbidden from using the library
, hostel and other facilities at his college, though he was allowed to attend classes. The penalty was imposed on him and four other students, all members of the Ambedkar Student's Association, for allegedly beating up the leader of the ABVP, the youth wing of the BJP.
A
complaint about that assault
was sent in August last year by union minister Bandaru Dattareya to the Education Ministry. Between September and mid-November, a series of emails and letters from Ms Irani's department asked the Vice Chancellor of the university to furnish an explanation. This pressure, the opposition Congress has alleged, moved university officials to act against Mr Vermula and the others, though an initial inquiry had exonerated them of any wrong-doing.
Mr Gandhi, who visited Mr Vermula's mother today in Hyderabad, said that the Vice Chancellor, Appa Rao, has shown neither "the dignity or decency" to visit Mr Vermula's family, an omission he pegged as "an insult to every student."