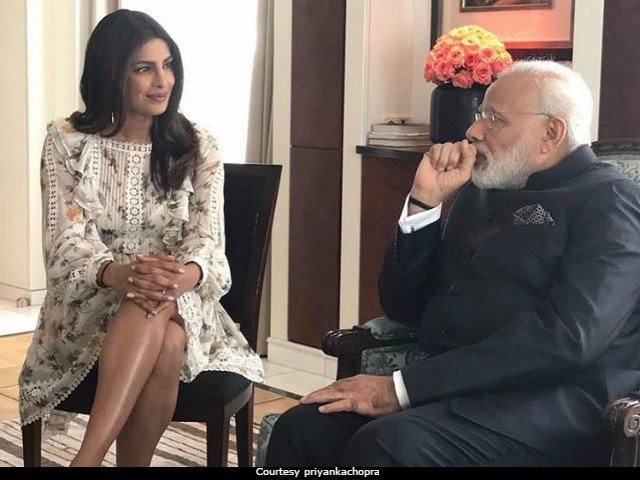 Highlights
'Thank you for taking the time to meet me,' Priyanka wrote on Twitter
Priyanka Chopra is in Berlin on behalf of her new film Baywatch
Meanwhile, PM Modi's on a six-day visit to Germany, Spain, Russia, France
New Delhi:
Prime Minister Narendra Modi is in Berlin and, guess what, so is Priyanka Chopra. And they caught up. Priyanka, 34, posted pictures of the meeting on her Twitter and Instagram accounts, writing, "Thank you for taking the time to meet me. Such a coincidence to be in Berlin at the same time." Indeed. Mr Modi, who is on a six-day visit to Germany, Spain, Russia and France, arrived in Berlin yesterday. Priyanka Chopra
is there on behalf of her new film Baywatch
, in which she makes her
Hollywood debut
opposite a cast headlined by Dwayne 'The Rock' Johnson. See Priyanka's posts here:
Thank you for taking the time to meet me this morning @narendramodi Sir. Such a lovely coincidence to be in #berlin at the same time.pic.twitter.com/vLzUSH5WR1

— PRIYANKA (@priyankachopra) May 30, 2017
PM Modi's visit is aimed at boosting economic ties with the countries he's visiting so his schedule is undoubtedly packed.
Priyanka Chopra
is barely ever in India these days. She's more or less a semi-permanent resident of USA where she's been busy filming her TV series
Quantico
, attending red carpets events like the Oscars, Golden Globes, and recently, the Met Gala, and promoting her new film. Priyanka will also be taking
Baywatch
to London, after Berlin.
Baywatch
,
a long-awaited big screen adaptation of the iconic TV series of the 90s
, opened in USA last week to coruscating reviews and less than impressive box office numbers. It releases in India this Friday. The film also stars Zac Efron and Alexandra Daddario. Priyanka plays the villain, a drug dealer named Victoria Leeds.
Priyanka Chopra was last in Mumbai in April, where she celebrated the three National Awards won by
Ventilator
, the Marathi film she produced.