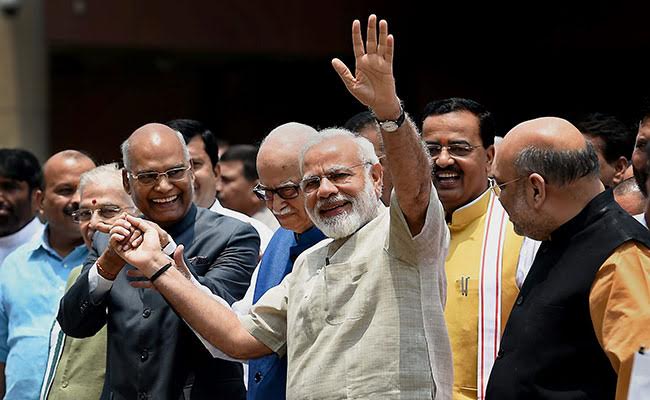 New Delhi:
Ram Nath Kovind has won the presidential election after securing over two-thirds of the total electoral college votes. Mr Kovind will be sworn-in as the 14th President of India on July 25. Prime Minister Narendra Modi congratulated Ram Nath Kovind for winning the presidential election. PM Modi tweeted: "Congratulations to Shri Ram Nath Kovind Ji on being elected the President of India! Best wishes for a fruitful & inspiring tenure." Flowers and extra security had arrived at the former Bihar governor's home in Delhi long before the official announcement and sweets were passed around at his hometown in Uttar Pradesh. The counting of votes for the presidential election began at 11 am today. The contest, between the ruling NDA's Ram Nath Kovind and the Opposition's Meira Kumar, both Dalits, had seen nearly 99 per cent lawmakers and legislators cast their vote - the highest ever. Voting had taken place on July 17.
Here are the latest updates as Ram Nath Kovind wins the presidential election:
Opposition's presidential candidate Meira Kumar, who lost the election to Ram Nath Kovind, thanked Congress president Sonia Gandhi and other leaders who supported her. She said that "My fight for secularism, the oppressed & the marginalised continues. I thank all my well wishers for their support & good wishes."
I want to thank all the members of the collegium, Smt Sonia Gandhiji & leaders of all the political parties who have supported me. 1/2

- Meira Kumar (@meira_kumar) July 20, 2017
My fight for secularism, the oppressed & the marginalised continues.I thank all my well wishers for their support & good wishes.

- Meira Kumar (@meira_kumar) July 20, 2017