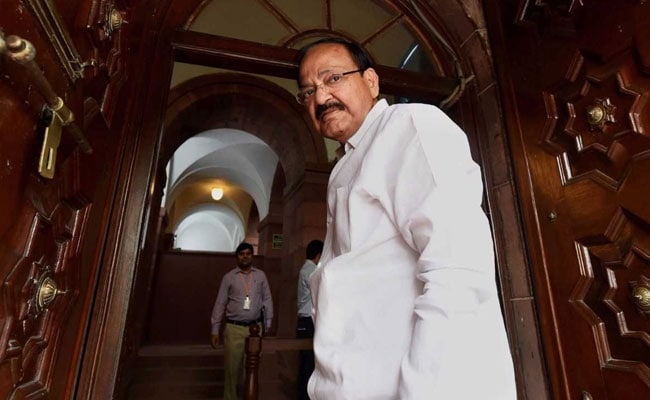 New Delhi:
Political leaders congratulated National Democratic Alliance nominee Venkaiah Naidu for winning the vice-presidential elections on Saturday. Mr Naidu was elected the 13th Vice-President of India after securing over two-thirds of votes, leaving Opposition candidate Gopalkrishna Gandhi far behind.
Congress chief Sonia Gandhi extended best wishes to Mr Naidu and extended her party's support in further strengthening the Rajya Sabha for effective scrutiny of legislations and government policies.
"The position of vice-president has the crucial challenge of assuming a non-partisan role in running 'The House of Elders' which acts as a storehouse of wisdom and sage advice for the government. The House of Elders is an important determinant of our democratic functioning to address appropriate checks and balances," she said in her message.
By virtue of being vice-president, Mr Naidu will also preside over the Rajya Sabha as its chairman.
Meanwhile, West Bengal Chief Minister Mamata Banerjee and Governor Keshari Nath Tripathi also congratulated Mr Naidu on his election.
"Congratulations to Venkaiah Naidu Ji, who will be our next Vice President. We wish him well," Ms Banerjee said in a tweet.
"In the tradition of our democracy, Gopal Krishna Gandhi Ji fought this election with dignity for certain ideals. We will continue to believe in these ideals and take them forward," she tweeted.
Congratulating Mr Naidu, Mr Tripathi expressed confidence that he will uphold the Constitution of India in its true spirit and work for the welfare of the Nation.
Outgoing vice-president Hamid Ansari also greeted Mr Naidu on his victory in the elections.
In a telephonic conversation after the results were declared, Mr Ansari wished Mr Naidu "the very best for his future role as the vice-president of India and the chairman of the Rajya Sabha", an official statement said.
The 68-year-old BJP leader from Andhra Pradesh got 516 votes out of the total 771 votes cast, while Gandhi could bag only 244 votes. Of the total 771 votes polled, 11 were found to be invalid.