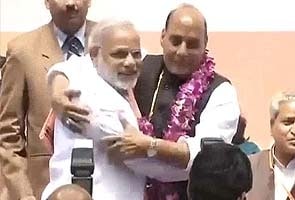 New Delhi:
On day two of the Bharatiya Janata Party's National Council meeting in Delhi, party chief Rajnath Singh heaped praise on Gujarat Chief Minister Narendra Modi, and called him "the most popular" Chief Minister. "Gujarat has become a model state in the world due to the immense industrial boom it has seen under the guidance of Mr Narendra Modi," Mr Singh said.
His comments come on a day when the University of Pennsylvania's Wharton School is reportedly having second thoughts about hosting Mr Modi as a speaker at its annual Wharton India Economic Forum on March 23.
In his address to party colleagues, Mr Singh set the tone for the BJP's offensive against the UPA government in the run-up to the 2014 general elections.
The BJP president accused the UPA government of failure on various counts, including ensuring security, maintaining diplomatic relations, particularly with neighbouring countries, tackling naxalism, and managing the economy.
Mr Singh took a swipe at Prime Minister Manmohan Singh by comparing his response to terror attacks with that of his Israeli counterpart. "After a terror attack, the Israeli PM says he will hunt down terrorists and annihilate them, our PM says we won't play cricket (with Pakistan)," Mr Singh said.
Attacking the Centre's economic policies, Mr Singh said, "An alternative economic system will be bought in by the BJP. Our model will be based on savings." He held up BJP-led states like Gujarat, Karnataka, Goa, and Madhya Pradesh as growth models for the rest of the country.
The three-day conclave, convened mainly to ratify Mr Singh as president, will conclude tomorrow. Along with holding deliberations on its roadmap to the next general elections, the BJP is also discussing a host of political and economic issues.