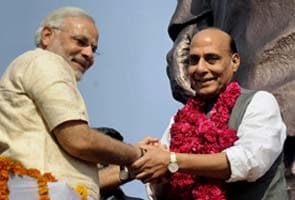 New Delhi:
Narendra Modi
has never asked for "a bigger role", BJP president Rajnath Singh said today, "not even once." He also said that "Nobody can deny that
Narendra Modi
is among the most popular (leaders) and also the best performer (in the BJP)."
Two of the BJP's biggest allies have demanded that the party disclose whether Mr Modi, who is the Gujarat Chief Minister, will be its prime ministerial candidate.
Today, the Shiv Sena joined Nitish Kumar, who runs Bihar in partnership with the BJP, in asking for full disclosure.
(Name Prime Ministerial candidate now, Shiv Sena to BJP)

In its newspaper, the Sena warned that "old friends can be separated over the wrong candidate", alluding to Mr Kumar, whose party the Janata Dal (United) has said it cannot support a leader without secular credentials as the presumptive prime minister of the national coalition headed by the BJP. The National Democratic Alliance or NDA has six parties including the Sena and the JD(U).
Unlike Mr Kumar's party, the Sena said that Mr Modi could not be held accountable for his state's communal riots in 2002, in which hundreds of Muslims were killed.
But the Sena warned that "BJP, as a party, may decide its PM candidate, but it must also know that NDA as an alliance has the right to decide its PM candidate as well." The party said that the BJP should discuss the issue at a meeting of NDA allies scheduled on Saturday.
The BJP chief said today that a decision on the party's nominee for Prime Minister would be taken by the parliamentary board, a group of senior leaders.