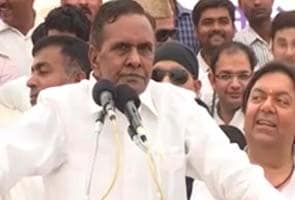 Faizabad/New Delhi:
In yet another controversial remark which may sour relations between the Congress and the Samajwadi Party, Union Minister Beni Prasad Verma today called SP leaders liars and said "They are dreaming about becoming the PM. But they are not fit enough to get a sweeper's job in the PM's residence."
Within a week this is the second salvo from the steel minister fired at the Samajwadi Party whose support became critical for the Congress after Mamata Banerjee's Trinamool Congress and the DMK withdrew support to the UPA.
With the Congress planning to push crucial legislations before the end of the 15th Lok Sabha term, the party can ill afford to displease the head of the party which has 21 MPs in the Lok Sabha.
The Congress on Wednesday last had censured Beni Prasad Verma for publicly claiming that some party leaders worked as the B-team of Samajwadi Party.
Mr Verma was advised by the party that such issues if any should be discussed within the party and not outside.
Madhusudan Mistry, All India Congress Committee (AICC) general secretary in-charge for Uttar Pradesh, is said to have spoken twice to Mr Verma over the phone.
Mr Mistry had said that "This may be Verma's personal opinion. If he has any information, he should share it with party leadership."
In April last, Mr Verma had accused Mulayam Singh Yadav of conniving with LK Advani in the run up to the demolition of Babri Masjid.
Earlier in March, Prime Minister Manmohan Singh had to personally push Mr Verma to issue a public "regret" for claiming that the SP chief had terror links. Following a request from UPA chairperson Sonia Gandhi, Mulayam Singh's party had ended its demands for Mr Verma's sacking.