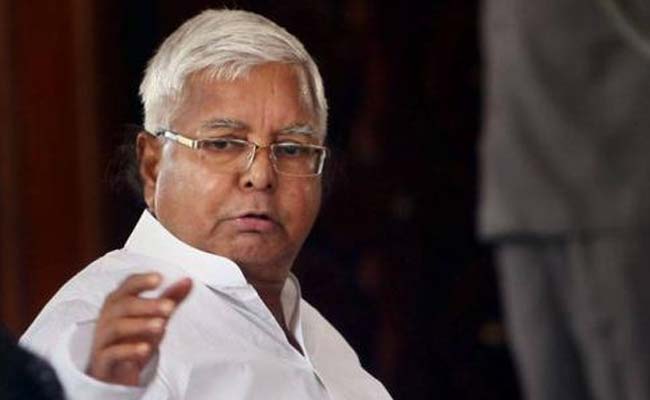 Highlights
Lalu Yadav facing multiple corruption investigations
Plans large rally in August, invites top opposition leaders
On board: Sonia Gandhi, Mamata Banerjee, Nitish Kumar
Patna:
It has not been a great season for Lalu Yadav. The Supreme Court just last week refused his request to decide that he will be tried in five different cases for corruption linked to his term as Bihar Chief Minister in the 90s. And on Tuesday, 100 tax officials and investigators searched different properties in and around Delhi as part of an investigation that alleges Lalu, as he is known, has a stash of secretly-owned real estate assets that total 1,000 crores.
All this, the 69-year-old claims, is the misuse of power by a vengeful centre punishing him for his unremitting criticism of Prime Minister Narendra Modi and his government as a fascist force. To make that point, Lalu few days ago announced a rally in August in Patna to parade opposition leaders as a counter-point to the BJP-led national coalition which has been delivering knockout results in one election after another with Uttar Pradesh as its special trophy.
Sonia Gandhi, who heads the Congress, has said she will attend. West Bengal Chief Minister Mamata Banerjee tweeted on Tuesday that she "will be there." On Wednesday, Lalu phoned Mayawati, the chief of the BSP, with an invitation. Her main rival, Mulayam Singh Yadav, is related to Lalu as a distant in-law and his presence is a given. Lalu on Wednesday also pinged Left leaders including Sitaram Yechury and D Raja. Delhi Chief Minister Arvind Kejriwal has not yet been asked. And Lalu's main ally, Bihar Chief Minister Nitish Kumar, caused some discomfort by dwelling on the invite for a while before agreeing to participate.
Sushil Kumar Modi, the BJP's top leader in Bihar, suggested on Tuesday that the plans are premature because Lalu is likely to be in jail by the time August rolls around. Lalu, ace practitioner of quips, tweeted in response, "Ha ha. My name is Lalu and I pity for such intimidators".
Lalu's party holds the maximum seats in Bihar but serves as Mr Kumar's junior partner in the government. The Congress is the third participant in the coalition.
Lalu's rally is to take place in the last week of August in Patna's Gandhi Maidan, a giant public park that can hold upto five lakh people. It will take place on August 27, after the next President of India has been decided. The opposition and the government are reportedly keen on an election, the former to test its unity and the latter to establish its dominance. To win, the BJP will need to ensure that allies like the Shiv Sena do not switch sides, while also lassoing the support of regional players like Naveen Patnaik's Biju Janata Dal or the ruling TRS from Telangana.
After PM Modi delivered the politically vital state of Uttar Pradesh to his party with the strongest result for a party in nearly three decades, opposition leaders ceded that to prevent him from getting a second term in 2019, their only chance lies in coming together as one sprawling coalition. They say the merits of this strategy are on display in Bihar, where, in 2015, the PM's well-received and vast campaign was defeated by the twining of three parties including Lalu's.
Mrs Gandhi has taken the lead in negotiating with other opposition leaders to shortlist a candidate for President. If an election is held, a victory is not likely, but the conceit of a Mahagathbandhan or Super Alliance will have been piloted.
Similarly, Lalu's rally will offer non-BJP parties another field study.