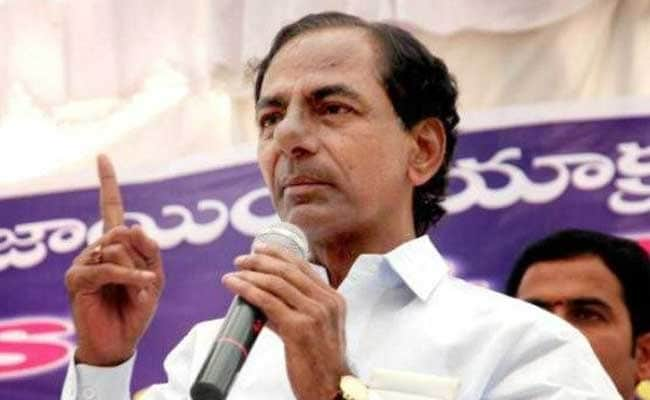 Highlights
Amit Shah alleged TRS failed to reach centre's benefits to people
K Chandrasekhar Rao accused BJP chief Amit Shah of "lying"
TRS had earlier hinted it would support BJP's presidential candidate
Hyderabad:
The Telangana Rashtra Samithi has not yet decided on who it will support for the Presidential elections, Telangana chief minister and the party's chief K Chandrasekhar Rao said on Wednesday.
A senior lawmaker from his party had earlier said that the TRS would support any candidate that the BJP-led National Democratic Alliance fields for President. That seems to have dramatically changed after BJP chief Amit Shah's three-day Telangana visit that ended on Wednesday.
The BJP president had claimed at public meetings in Nalgonda on Monday and Tuesday that the TRS government had failed to reach the benefits of central programmes to people in the state. He said funds in excess of one lakh crore rupees had been given to Telangana and yet the TRS government had failed to utilise them for the good of the people.
The allegations irked Telangana chief minister Mr Rao, who is called KCR, so much that he called a press conference on Wednesday to accuse Mr Shah of "lying." He said the state contributed a lot more to the centre than it got from it through the devolution of taxes. KCR also alleged that Amit Shah was indulging in "petty politics to humiliate the TRS and the people of Telangana."
The TRS, he said, would only decide on Saturday, May 27, who it would support for President, hinting that the BJP chief would do well to "realise his mistake and make amends."
However, reacting to KCR's allegations, Mr Shah again repeated that the TRS government failed in helping the central schemes reach the state. Mr Shah also said that parties in Telangana had been rattled with the BJP announcing its plans for the state.
The NDA is a little short of the 51 per cent it needs in the electoral college that elects the President and hopes for support from regional parties like the TRS, YSR Congress, AIADMK and the Biju Janata Dal, which together have about 12 per cent.
Jaganmohan Reddy of the YSR Congress has already pledged support to the NDA, while Tamil Nadu Chief Minister E Palaniswami met Prime Minister Narendra Modi on Wednesday and is believed to have discussed the presidential election to be held in July, when President Pranab Mukherjee's term ends.
Opposition parties are meeting on Friday in Delhi at the invitation of Congress president Sonia Gandhi to decide on a joint candidate to take on the NDA's nominee.
In his tour of Telangana, Amit Shah, on a mission to expand the BJP's footprint in states where it has limited presence, did not visit the chief minister's constituency or any TRS stronghold. He spent two days in Nalgonda, that is the bastion of the Congress and Left. On the third day he held a polling booth committee meeting in Hyderabad, which has been won by Asaduddin Owaisi's All India Majlis-e-Ittehadul Muslimeen (AIMIM) for the last 33 years, since 1984.