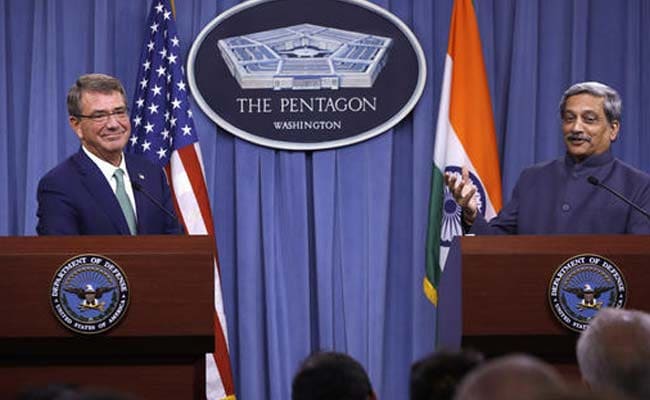 Washington:
Countering terrorism is an important common objective shared by both India and the US, Defence Minister Manohar Parrikar said in Washington today.
"We resolved to continue our cooperation on counter-terrorism; our open and diverse societies are committed to peace. However, as the US has shown, there can be no compromise when are faced with terrorism," Mr Parrikar said.
The Indian defence minister also appreciated American support in efforts to eliminate terrorism in India's neighborhood.
"The forces that seek to undermine our progress and our ways of life require our comprehensive and robust response. We appreciate the support from US in our efforts to eliminate terrorism in India's neighborhood," Mr Parrikar added.
Standing alongside Mr Parrikar, United States Secretary of Defence, Ashton Carter said that not only Indian civilians but its military also has been a victim of terrorism, in an apparent reference to terrorist attack in Pathankot earlier this year.
"Terrorism is one of the many missions on which we cooperate. We oppose terrorism affecting anyone and us. That's certainly true with respect to terrorist acts perpetrated against Indian people, and also I should mention, the Indian military, which has happened as well," Mr Carter said.
In the joint statement issued after the meeting between Mr Parrikar and Mr Carter, the two agreed to facilitate greater and regular interactions to deepen cooperation in areas such a counter-terrorism, special operations, and maritime security.
"We and India share the principled view that in matters of freedom of the seas and freedom of navigation, as in so many other matters. States need to take a principled view where abiding by the rule of law and pursuing disputes peacefully is fundamental," Mr Carter said.