Bastar:
On Saturday evening, a convoy of vehicles entered the Bastar village which has been home, for the past year, to scholar and activist Bela Bhatia.
Ms Bhatia, a former faculty member of the Tata Institute of Social Sciences in Mumbai, says the group arrived in "four or five jeeps, five autos and one small pickup truck". Some of them were armed, she said
They shouted slogans and distributed pamphlets to her neighbours with incendiary messages: "Know the woman who lives next to you. Bela Bhatia, who is the broker/pimp of Naxalites."
Ms Bhatia says she has no links to Maoist groups, but her work as a human rights activist often pits her against security forces. For instance, her bringing to light accusations that police forces raped tribal women in Bastar in October last year.
The pamphlet also targeted her husband, the economist Jean Dreze: "Bela Bhatia, leave Bastar with your foreigner husband Jean Dreze." (Dreze clarified in an online post that he is an Indian citizen.)
In an interview to NDTV in Jagdalpur, members of the Samajik Ekta Manch (SEM) - the group behind the protests - claimed they were formed last year to channel public anger against Maoism, and that they do not target individuals.
When asked repeatedly the basis for their serious accusations of Maoist links against Bhatia, they were evasive.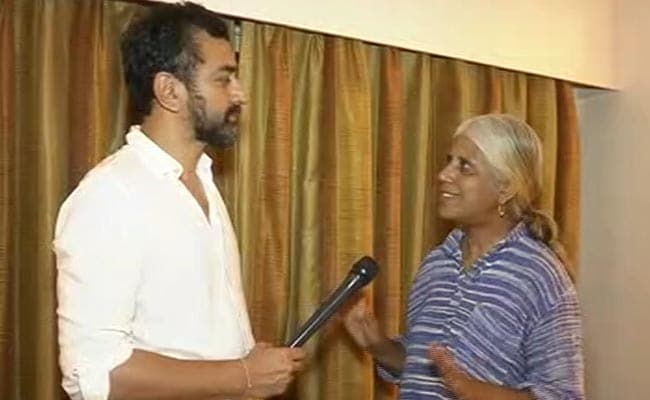 One of their members, Subba Rao said there is no hard proof for such an assertion, and that it's based on a general presumption.
The police appears to take a benign view of their aggression; one reason could be the presence in virtually one of their meetings of top police officials, including Bastar's top cop, SRP Kalluri.
This has led to accusation that the SEM is a front for the police,
used to target anyone critical of Mission 2016, the police's new thrust against the long-running Maoist insurgency
.
A local journalist Prabhat Singh
who entered into an altercation with the SEM over Mr Kalluri on WhatsApp has been arrested in four different cases.
Another journalist, Malini Subramaniam, was forced to leave Bastar when after complaining of harassment by the SEM, the police chose to bear down on her, her staff, and her landlord.
Surprisingly for a group with such deep patronage of the police, SEM's core team is made up of ex-members of the Salwa Judum, an anti-Maoist vigilante group banned by the Supreme Court in 2011.
One of SEM's founders, P Vijay is an ex-Judum member. Farooq Ali, another SEM member, is the brother of Sadiq Ali a close aide of politician Mahendra Karma, the founder of Salwa Judum.
"Salwa Judum was not a wrong movement. Salwa Judum was banned but the person representing it was not banned. If the person who was associated with the Salwa Judum movement raises his voice against naxalism, that is not a crime," Mr Ali told NDTV.
The group also has members from the Congress and the BJP.
The Collector of Bastar, Amit Kataria, who has also been a regular at SEM meetings, said that the group cannot use its proximity to break the law. "We have given them a strong message," he said. "Any violation of the law will not be tolerated."
(
Watch more on Chhattisgarh's War Without Witnesses on Truth vs Hype, 9:30pm on Saturday and 7:30pm on Sunday, NDTV 24x7
)