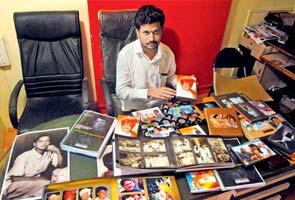 Mumbai:
Hero worship is usually believed to be fleeting, but one man's passionate adoration and respect for late-former chief minister Vilasrao Deshmukh, has spanned 12 long years.
Ajay Boradepatil, 27, has been collecting newspaper cut-outs, clicking photographs and shooting videos of the late leader for as long as he can remember and till date, he has a collection of over 2 lakh items all related to Deshmukh and his endeavours.
His office is dotted with numerous photographs and press articles, and his collection of videos, shot over the years, have been stored carefully on video cassettes, CDs and hard drives. He also treasures pictures and videos he shot of Deshmukh's last speech in Latur.
"I was so fascinated with Vilasraoji's work that I decided to collect pictures of him since I was in Std X. I asked my friends to help me with my hobby and whenever I learnt that Vilasraoji would be speaking, I would reach the spot to take pictures and videotape the event. Once I shoot the videos, those cassettes are not used again, but stored away safely," Boradepatil said.
Boradepatil added that Reitesh Deshmukh complemented him when he showed him his collection. "He gave me two pictures, one of Vilasraoji when he was in Std X and another of Amit and himself when they were kids," Boradepatil said.
Boradepatil had been fasting and praying like several other residents of Latur in the hopes that Deshmukh would make a full recovery.
When Boradepatil was contacted after the news of Deshmukh's passing away was announced, he was too shattered to say much. He merely said that Latur and its residents would never be the same and they are all in a state of mourning.