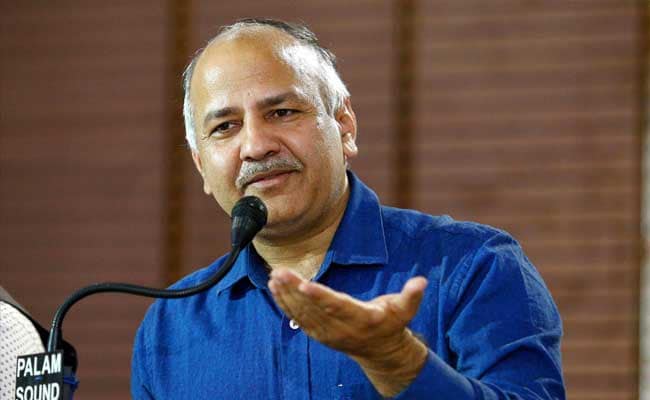 New Delhi:
Delhi Deputy Chief Minister Manish Sisodia has written to Union Human Resource Development Minister Ramesh Pokharyal "Nishank" supporting the ministry in its initiative to plan the reopening of schools with reasonable guidelines.
According to an official statement on Saturday, Mr Sisodia in his letter said that as Chief Minister Arvind Kejriwal had pointed out that we need to learn to live with the coronavirus and added that reopening of schools with reasonable precautions is a step in the right direction.
This comes as the Union HRD Ministry is preparing elaborate guidelines to be followed by schools and universities when they reopen. Educational institutes have been closed since the lockdown was first imposed to prevent the spread of coronavirus.
"First of all we need to assure every child, irrespective of age and social class that they are important to us and all of them have equal right to physical and intellectual space of their respective schools. The clamour of online teaching or older children coming to school first and not the younger ones should be put to rest", Mr Sisodia said in the letter.
The Deputy Chief Minister said that online teaching can only complement the learning in school, not replace it.
"Since we need to learn to live with Corona now, it would be better if the already existing learning space, which is school, take up that role. But before doing that, parents need to be taken in confidence and they should be explained about the risk factor with facts," he said.
In this regard, Mr Sisodia also quoted the Indian Council of Medical Research (ICMR) COVID study, which said that the attack rate (people affected per 1 lakh population) is lowest among 0-9 years age group.
Mr Sisodia suggested that a distinct approach should be followed in the early childhood education and elementary grades segment like secondary and senior secondary.
For children in the age group 3-4 years which is nursery to Class 8, he recommended establishing the foundation of lifelong learning with a goal of learning to learn.
"Instead of continuing the remaining part of schooling with reduced syllabus let us move beyond the tendency to just complete the syllabus," Mr Sisodia said.
Instead, he said that fluency in reading with understanding and oral expression, writing different genre of texts, number sense, emotional resilience, internalization of healthy and hygienic practice, etc should be the key areas of engagement between children and their teachers.
For Secondary and Senior Secondary grades, he suggested that NCERT and CBSE should be asked to remove the stranglehold of syllabus and rote learning-oriented exam from the academic life of a child.
Mr Sisodia also said that the syllabus should be reduced by at least 30 percent across all grades and subjects and emphasis should be on depth in learning and understanding rather than spreading far and wide.
He also suggested that the CBSE should move away from one-time high stake exams of class 10 and 12 to a model of continuous evaluation, so that students can take online exams whenever they want.
"We cannot expect a fundamental change in education and examination unless our teachers are ready and prepared for it," Mr Sisodia said advocating for international level training for the teachers and added that they should be deeply aware of innovative practices across the world.
He also emphasized on research so that new techniques of teaching and learning can be understood and implemented at the school level and advocated for teacher training model of Singapore and advised that the approach of the International Baccalaureate (IB) board be referred for exam reforms.
World
Coronavirus has spread to 200 countries. The total confirmed cases worldwide are 67,18,29,815 and 68,45,414 have died; 62,08,33,374 are active cases and 4,41,51,027 have recovered as on February 7, 2023 at 10:12 am.
India
In India, there are 4,46,83,454 confirmed cases including 5,30,745 deaths. The number of active cases is 1,817 and 4,41,50,892 have recovered as on February 6, 2023 at 8:00 am.
State & District Details
State
Cases
Active
Recovered
Deaths

8137211 12

86 1

7988704 11

148421

Sri Potti Sriramulu Nell*

296

2339084

1

2324350

14733

4073036 15

154 10

4032573 5

40309

259122

6

255103

4013

3594681 6

30 2

3556602 4

38049

6829890 37

1211 1

6757101 36

71578

1177778

1

1163631

14146

Jayashankar Bhupalapally

9

841526 3

32 1

837383 2

4111

1336652

82

1327365 4

9205

1054939 1

1 1

1044161

10777

1277659 2

10 1

1266603 1

11046

1315587 1

15

1305918 1

9654

1056683 1

31

1045938 1

10714

2128175 2

14

2104524 2

23637

2007404 3

10

1980872 6

26522

746100

0

738065

8035

44322

0

43823

499

851416

4

839109

12303

2118774 4

50

2097192 5

21532

North And Middle Andaman

1

10751

4

10618

129

175732 3

35

173722 8

1975

66891

0

66595

296

35986

0

35204

782

11591

0

11587

4

442574

0

437243

5331

108034

0

107094

940

29420 1

1 1

29188

231

479461

13

474663 1

4785

312708

4

308491

4213

Shahid Bhagat Singh Nagar (Nawanshahr)

99

784371

15

765067 3

19289

449445

6

441686 1

7753

139924

0

137775

2149

99361

1

98179

1181

96787

0

95162

1625

238964

0

238238

726

11415

0

11363

52