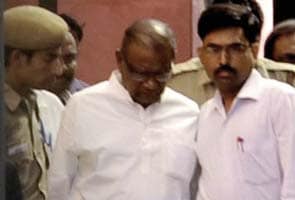 New Delhi:
Former BJP president Bangaru Laxman, who was found guilty of accepting a bribe by a Delhi court on Friday, has been sentenced to four years in jail and fined Rs one lakh.
Mr Laxman has been convicted under the Prevention of Corruption Act for misusing his office and for attempting to influence another public official. He was arrested after the court's order on Friday.
The 72-year-old faced a maximum sentence of five years. In the court today, he appealed for a lesser sentence on health grounds. "It is the first time I have been in such a situation," he added.
After the sentence was announced, Mr Laxman's lawyer said he would appeal against the order in a higher court. "This was clearly a framed case. This is not the final decision. We will appeal against it."
Mr Laxman's daughter was the only member of his family present in the court today.
In 2001, news organisation Tehelka.com conducted a sting. A reporter posing as an arm dealer offered Mr Laxman one lakh as a kickback for a contract. Hidden cameras caught Mr Laxman accepting the bribe. Mr Laxman accepted the money in return for hiring the company to supply hand-held thermal imagers to the Indian Army.
In its 155-page judgement on Friday, the court said Mr Laxman received money to "influence the public servants."
"I am of the considered opinion that CBI (Central Bureau of Investigation) had been able to establish the necessary ingredients of offence under section 9 of the Prevention of Corruption act, 1988 against accused Bangaru Laxman beyond reasonable doubt," the judge said.
"The accused Bangaru Laxman on January 5, 2001 had accepted illegal gratification of Rs. 1 lakh from M/S Westend International and has further agreed to accept the balance amount of illegal gratification in dollars, as a motive or reward for exercise of personal influence on the public servants working with ministry of defence, to show favour for award of a supply order in favour of the above mentioned company of HHTIs (hand-held thermal imagers) to Indian Army," he added.
"The method adopted by the Tehelka people may be objectionable, but their purpose was not. The material collected on record does not suggest any shortfall in the investigation", he further said and observed that the idea to commit wrong came to the accused immediately after meeting the representative of the supposed firm.
"We never played dirty game with anybody. We showed that time how the system could be misused," said Aniruddha Bahal, a Tehelka journalist.
The FIR in the case was registered on December 6, 2006 against Bangaru Laxman, his assistant personal secretary N Umamaheshwar Raju and personal secretary T Satyamurthy. Mr Satyamurthy, however, had been granted pardon by a trial court after he turned an approver in the case, while the trial could not proceed against Mr Raju due to lack of evidence. A Delhi court in May last year had framed corruption charges against Mr Laxman.
Reacting to the court's order, Congress leader Renuka Chowdhury said, "It saddens me as it demeans public office and life. It send powerful signal that nobody is above law no matter how big or great you are. He will have to pay the price, lessons must be learnt. BJP must shed belligerent high-moral care. Everyone needs to learn a lesson. Corruption is not someone's patent."
The BJP has sought to distance itself from the conviction of its former President. "He is entitled to his course of action now. It was certainly his personal liability as we have always said. We even removed him from the post of party president. He was caught in a sting operation. What about Bofors, what about Quattrocchi? Now at least a fair probe should be announced in those matters," said BJP's Ravi Shankar Prasad.
Bangaru Laxman is still a member of the BJP's national executive.