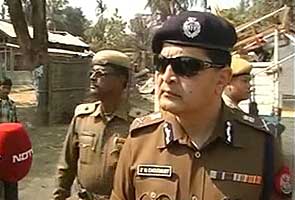 Goalpara, Assam:
No fresh killings have been reported from Assam's Goalpara district where protests by the Rabha Hajong tribe during Tuesday's village council elections triggered violence. The death toll has gone up to 21 today. Director General of Police, Jayanto Narayan Chaudhary, told NDTV today that the situation is improving.
Thirteen people have died in police firing since Tuesday and seven in clashes between the Rabha Hajong tribe and members of other communities.
The high number of deaths in police firing has been criticised, but the DGP said the police reacted according to the situation. "The man on the ground is the best judge of a situation," Mr Chaudhary said in an exclusive interview. "A judicial probe by the government will go into the specifics of what happened."
Eight columns of the Army, which is about 500 soldiers, are out in Goalpara, conducting flag marches. Security forces have been given shoot-at-sight orders to tackle the arsonists, who attacked and burnt down villages.
"The situation is better. We want to restore full normalcy. We are seeking the Army's help but the police hopes to take charge of the situation in the next few days," Mr Chaudhary said.
Fear is still palpable in the district. A teacher in Bekipul village, who was on election duty, described the horror of the attacks. "Hundreds of extremists attacked my village, looted homes and set them on fire while voting was on. My entire house of six rooms was burnt down. My wife and children were at home at the time. The administration failed to control the violence," he told NDTV.
Chief Minister Tarun Gogoi has said he will recommend a CBI inquiry into the unrest. "I agree the security preparations for the elections could have been better. I take full responsibility (for the violence)," he said yesterday.
Curfew was declared in two areas yesterday morning when the toll rose sharply from 10 to 19 overnight.
Goalpara district, about 120 kilometres from Guwahati, is the nerve centre of the Rabha Hasong Joint Action Committee, which is opposed to the panchayat polls.
The police said it has had to open fire because members of the Rabha Hajong tribe were burning down villages and attacking government officials.
The Rabha tribe wants autonomy in this part of the state and rejects government control. It believes that panchayats or village councils will undermine its own council's authority. But the district has reported 60 per cent voting in the final phase of the panchayat elections.
More than 10,000 people have lost their lives to unrest in Assam over the last two decades.