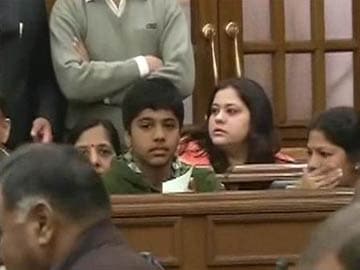 New Delhi:
Arvind Kejriwal's mother, wife and young son watched today as he was attacked in the Delhi legislature by leaders from other parties.
"This is not an AAP dharna where you can do what you want," said Congress leader Arvinder Singh Lovely, referencing Mr Kejriwal's proclivity for staging demonstrations to press his demands.
Undeterred by shouting law-makers from other parties, Mr Kejriwal introduced the anti-graft Jan Lokpal Bill in the Delhi Assembly and said a debate or vote on the proposal should follow.
What followed, however, was major embarrassment for his government when the assembly voted against the introduction of the Bill. "The bill is not tabled," said Speaker MS Dhir.
A majority 42 MLAs rejected the tabling of the bill; the Delhi assembly has 70 seats.
Mr Kejriwal has described the bill, which creates an ombudsman agency or "Lokpal" to investigate corrupt government offices as the raison d'etre for his one-year-old Aam Aadmi Party (AAP). If the bill is not passed as a law, he has said, he will resign.
The Congress and the BJP prefaced their attack on him today with the announcement that they support the bill. A litany of objections followed.
Their main contention is that the bill has been vetoed by Delhi's constitutional head, Lieutenant Governor Najeeb Jung. In a letter to the Speaker, Mr Jung has said that without his approval, the bill cannot be reviewed by law-makers. The Congress and the BJP said that the assembly should first vote on whether Mr Kejriwal has violated fundamental protocol by ignoring the Lieutenant Governor's protest.
The chief minister has rejected the opinion that his proposal must be vetted by either Mr Jung or the union government before it is debated and voted upon. Last week, the centre's top lawyers said the union government's sanction is necessary because the bill creates a 'lokpal' or ombudsman agency which will be partly funded by the centre.
Mr Kejriwal says that's an excuse to stall the bill from being cleared as a law.