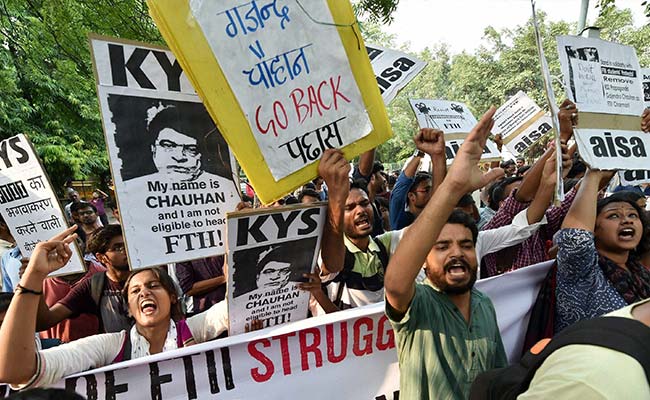 Mumbai:
FTII students, who called off their relay hunger strike after the government agreed to come to the negotiating table, held talks with Information and Broadcasting (I&B) Ministry officials here today.
The meeting is taking place at the office of the Films Division, Vikas Urs, spokesman of the FTII Students' Association (FSA), said.
The meeting, which began after 11 AM, is still underway and seven FTII students are taking part in it.
Among many other issues, the agitating students have two main demands, namely dissolution of the present FTII society and simultaneously setting up of a new search committee, through a transparent process in place to look into appointments of chairperson, members and other staff.
They also want FTII to be given the status of a premier national institute like IIT and IIM, so that no bureaucrat is appointed as FTII's director.
"We don't have any personal animosity against Gajendra Chauhan and other members. We want someone who truly has a body of work of national and international standards," a former FTII student said.
After a police crackdown on students who had gheraoed FTII Director Prashant Pathrabe in August, the I&B Ministry had appointed a three-member panel headed by S M Khan, the Registrar of Newspapers for India, to have a dialogue with the students.
The step was taken due to all-round pressure from students, their parents, alumni association as well as the film fraternity to end the logjam.
The Information and Broadcasting Ministry-appointed committee had visited FTII's Pune campus on August 21 and held discussions with students, faculty members and the alumni association.
The agitating students called off their 18-day-old relay hunger strike on Sunday after having boycotted classes since June 12 demanding withdrawl of Chauhan as the institute's Chairman.