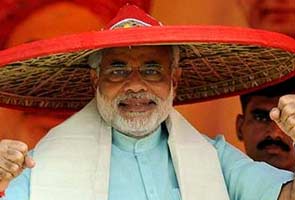 New Delhi:
After a 10-year boycott, the European Union is reconnecting with Gujarat Chief Minister Narendra Modi, ambassadors confirmed today. They stressed their stand is driven by his recent re-election and not by economic motives, and that they have conveyed to Mr Modi the importance of fixing accountability for the communal riots of 2002 in which more than 1000 people were killed in Gujarat, most of them Muslims.
After Mr Modi was re-elected in Gujarat in December, the German ambassador Michael Steiner hosted a lunch for Mr Modi last month in Delhi which was attended by envoys of other EU countries. Today, he explained, "I have always said ... we will take a fresh look after the polls. That's what we did and part of it was to talk directly to Modi...We are now in a new phase."
Mr Modi, who has turned Gujarat into an investor-friendly state, is being considered by his party, the BJP, as its prime ministerial candidate for next year's national election. Repeated allegations that as chief minister, he didn't do enough to stop the 2002 riots loom over his ambitions for the country's top job.
Sources among EU officials in Delhi said that they recognise that Mr Modi is "already unofficially playing a national role" in India.
Part of the decision to renew relations with Mr Modi is reportedly based on a recent court verdict which sentenced a former member of Mr Modi's cabinet, Maya Kodnani, to 28 years in jail for a leading role in the riots. The conviction signals that those responsible for the deadly riots will be punished, however slowly, said EU sources.
Manish Tiwari, who is minister of state for information and broadcasting, tweeted this morning, "EU says accountability for Gujarat Pogram (pogrom) must be fixed. Does buck not stop with their lunch guest? Ignominious to be reminded by foreigners."