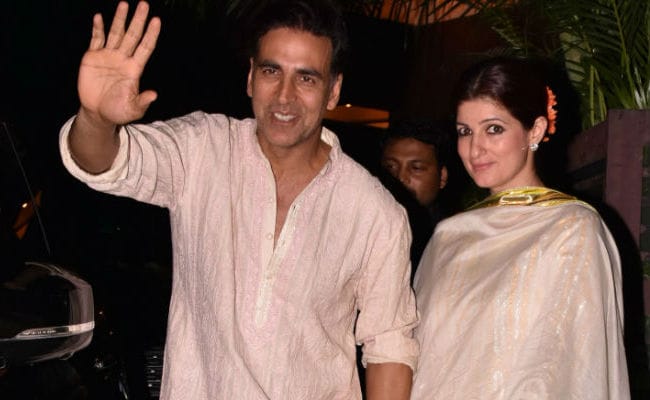 Highlights
Twinkle Khanna says humour has to be seen in the 'right context'
I have always stood up for freedom within comedy: Twinkle
It's about big shots who can't differentiate between charm-harm: Mallika
New Delhi:
Twinkle Khanna took her time to respond to the ongoing battle between her husband Akshay Kumar and his
The Great Indian laughter Challenge
colleague Mallika Dua about a comment, which Akshay said during the show (and which was never aired). Twinkle posted her statement on Twitter, in which she wrote: "... when Ms Dua went forward to ring the bell, Mr Kumar said:
Mallika Ji aap bell bajao main aapko bajaata hun
." A pun on the words and actions related to ringing of the bell. It's a colloquial phrase that both men and women use for instance - "I'm going to bajao him/her" or "I got bajaoed," Red FM even has a tag line "Bajatey Raho" all without sexist connotations. Mr Vinod Dua, Ms Dua's father, had written a post - it's been taken down now, stating: "
I am going to screw this cretin Akshay Kumar
." Should Mr Dua's statement also be taken literally or taken in context?"
Vinod Dua, a noted journalist, also told news agency IANS that he "expects an apology" from Akshay Kumar for his comment. But Twinkle Khanna said: "Words, especially humour, have to be seen in its right context. I have always stood up for freedom within comedy including defending AIB's infamous roast on numerous occasion in the past and that is my stance even today." She also asked social media user to "stop tagging her in this debate."
Read Twinkle Khanna's statement here:
October 29, 2017
A few days after the clip from the show went viral, Mallika Dua, tweeted her statement in which she said that this is not about Akshay Kumar and his comment, instead it is about "every big Bollywood star and every other big shot, who
cannot tell the difference between charm and harm
. This is about every big celebrity who thinks his colleague enjoys being grabbed by the waist and twirled without her consent. This is about workplace etiquette for everybody, men and women included, and about understanding the idea of professional communication so we don't make someone uncomfortable in their place of work, unintentionally or otherwise."
October 26, 2017
Mallika Dua along with Zakir Khan and Hussain Dalal were mentors on
The Great Indian Laughter Challenge
with Akshay Kumar as super judge. Due to the low TRPs the
mentor trio has been replaced by two more judges
- Shreyas Talpade and Sajid Khan.