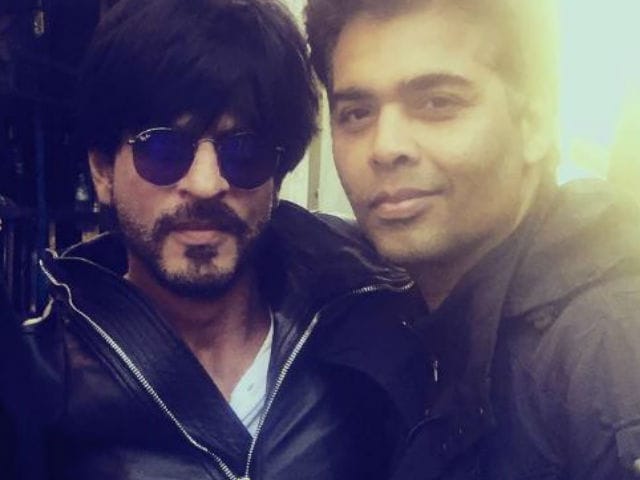 Highlights
Karan's second piece for NDTV.com was on trolling
Your talent makes me say you truly 'Got Machismo,' tweeted SRK
Underneath that famous pout it's all heart and strength, tweeted Twinkle
New Delhi:
Filmmaker Karan Johar added another hat to the many he wears already when he wrote his first column for NDTV.com two weeks ago.
His second piece, on trolling, was published this week and has resonated with several of Mr Johar's industry colleagues.
The 44-year-old director wrote about the hateful comments that are directed to him on Twitter, several of them ridiculing his sexuality.
"Why is it that every time I put up a pouting picture on Instagram, I'm just called chakka, gay, I'm told "chup kar ch***ye? That's my favourite, by the way. My absolute favourite. Anything I ever say, these three golden words are thrown at me," he said in his column,
Karan Affairs
.
"I maybe as sad as you, as lonely as you, as messed up as you, but here's what I also know: I'm just a lot nicer than you," Mr Johar told trolls.
On Twitter, several celebrities responded to Karan Johar's piece, including his long-time friend and collaborator Shah Rukh Khan.
@karanjohar u 'G** Ma******'.Ur sensitivity,drive & ur talent makes me say u truly 'Got Machismo' more than most.But BlueSteel is pushin it!

- Shah Rukh Khan (@iamsrk) June 16, 2016
To this Karan replied:
@iamsrk haha!!!!! Love you Bhai!!!! I had a feeling you would react to that....big huge hug!!!

- Karan Johar (@karanjohar) June 16, 2016
Other celebs from KJo's reading club tweeted:
And this is why @karanjohar you are my forever friend - underneath that famous pout it's all heart and strength https://t.co/XA3fevt8Lu

- Twinkle Khanna (@mrsfunnybones) June 16, 2016
Yes u are a lot , lot nicer @karanjohar ... That's my sign off too! https://t.co/VIzGdb09Oa

- Neha Dhupia (@NehaDhupia) June 16, 2016
Amazing read - @karanjohar big big hug.... Love you my friend. https://t.co/WqN22QLzXa

- MastiKhor AMAR (@Riteishd) June 16, 2016
@karanjohar .. Never ever change..Not the pout, the dance or the honesty cos u are way more huMAN than any of em! https://t.co/VO6vDAhutL

- SOPHIE CHOUDRY (@Sophie_Choudry) June 16, 2016
Proud of you @karanjohar . Keep being the positive soul u r & ignore the haters.Their hate reflects their souls https://t.co/nhLjl8rSZl

- Farah Khan (@FarahKhanAli) June 16, 2016
@karanjohar what a fantastic piece. That alarm clock should be patented. https://t.co/Z7pyYrNVTZ

- Dino Morea (@DinoMorea9) June 16, 2016
Dear @karanjohar . Don't change one thing. Not the pout. Not the humour. Certainly, NEVER the way you call 'em out! https://t.co/2CFphdgGru

- VISHAL DADLANI (@VishalDadlani) June 16, 2016
Read Karan Johar's column
Karan Affairs: Dear Trolls, You Don't Get Me, Never Will
.