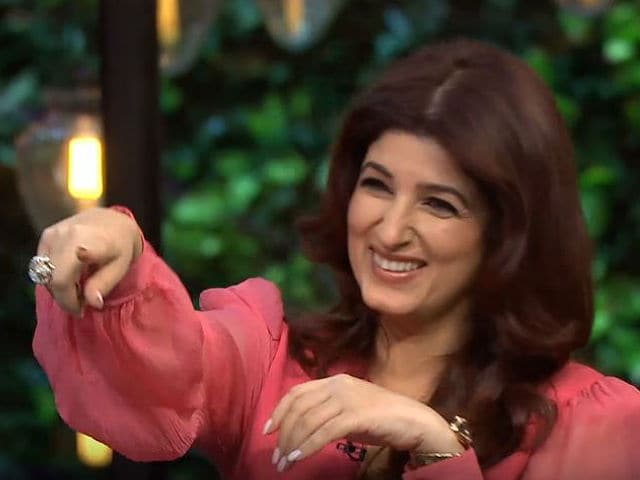 Highlights
I may have a nervous breakdown, Twinkle said about hosting a talk show
Twinkle Khanna appeared on Koffee With Karan with husband Akshay Kumar
Karan Johar edited out two of Twinkle's best lines
New Delhi:
Twinkle Khanna's super
successful debut on Koffee With Karan
this weekend had the Internet thinking - "What if Mrs FunnyBones had her own show?"
Now, Twinkle is the queen of funny. She's proved it time and again on Twitter and with her first book
Mrs FunnyBones
(which made her India's highest-selling female author of 2015) She sealed the matter once and for all on the
latest episode of filmmaker Karan Johar's show
.
Koi shak
?
Twitter thinks Twinkle deserves her own show. But what does Twinkle think? Internet, don't expect to see
Tea With Twinkle
any time soon:
Thank you for all the love may never do a talk show again-can't quite do the'Chasma Pehenle' bit as Mr K puts it-but was fun this once:)

— Twinkle Khanna (@mrsfunnybones) November 15, 2016
Earlier, in a conversation with a fan, Twinkle said:
@mrsfunnybones You are just too stunning & astounding for words! You just have to have a show of your own NOW! @StarWorldIndia

— Mohan Kapur (@mohankapur) November 13, 2016
Thank you but I may have a nervous breakdown if I have to do a show every week :)I don't know how my brilliant friend @karanjohar does it ! https://t.co/1WUmD2AXwz

— Twinkle Khanna (@mrsfunnybones) November 14, 2016
Twinkle Khanna appeared on
Koffee With Karan
with her husband, actor Akshay Kumar, on the second episode of Season 5. She was, of course, her
usual outspoken self
. Akshay, who once confessed that he
lives in fear of what his wife might or might not say
in public, found his worst fears coming true. Before the show aired Twinkle told NDTV: "I have already called him (Karan) and begged him to delete three lines. So, I hope he does delete those three lines."
Well, Karan did delete two of those lines but the internet unanimously agreed that it was one the best episodes of the show (are you listening, Shah Rukh Khan?).
Mini Mathur congratulated Twinkle and Karan for the episode:
Hey @karanjohar !Loved this episode of #KWK with Akshay & the brill @mrsfunnybones ! Your most organic, candid interview across all seasons.

— Mini Mathur (@minimathur) November 13, 2016
And Twinkle replied:
And this after you edited out two of my best lines @karanjohar :) https://t.co/3L7TyUveIg

— Twinkle Khanna (@mrsfunnybones) November 14, 2016
Twinkle Khanna, actor-turned author, is out with her second book
The Legend of Lakshmi Prasad
.