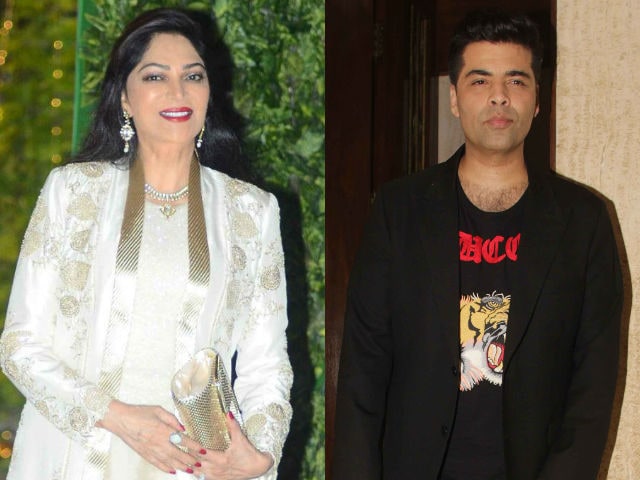 Highlights
KJo told IFFM director that he wants to host the film fest next year
'Another takeover,' tweeted Simi Garewal
Simi Garewal and KJo hosted rival chat shows years ago
New Delhi:
Karan Johar appears to be the focus of another award show controversy - playing out on Twitter this time - after apparently having told the organisers of the Indian Film Festival of Melbourne that he would like to host the ceremony that marks the festival's finale next year. This hasn't gone down at all well with actress Simi Garewal, who hosted the awards this year. The fest concluded last weekend and was attended by Karan Johar and a galaxy of other stars, among them Aishwarya Rai Bachchan. Ms Garewal posted a tweet earlier this week in which she claimed Mr Johar had spoken to the festival director about what she described as a 'takeover.'
Correction - she said 'another takeover.' Presumably, Ms Garewal is referring to the rival chat shows hosted by Karan Johar and herself.
Rendezvous With Simi Garewal
ran for five seasons till about 2004-5,
Koffee With Karan
began airing around then and its fifth season ended earlier this year.
See Simi Garewal's tweet - her account is unverified:
After I finished hosting IFFM Awards @karanjohar told Festival Director 'Next year I want to host the awards'! Another takeover?!

— Simi Garewal (@Simi_Garewal) August 15, 2017
She's found a lot of support online. "No one can reach your level" and "no question of a takeover" read some responses to her tweet. Others called Karan Johar 'greedy' and described him as 'mafia.'
This is the second time in as many months that Karan Johar's appearance at an award show left a trail on social media. At the IIFA Awards in New York last month, which he was co-hosting with Saif Ali Khan, Mr Johar rekindled a months-old controversy that actress Kangana Ranaut prompted by calling him the 'flag-bearer of nepotism' on
Koffee With Karan
. At IIFA, Mr Johar, Saif and actor Varun Dhawan acted out a poorly chosen 'joke' (as they later described it) in which they referenced each other's celebrity parentage and chanted 'Nepotism rocks.' They later apologised.
No word from Karan Johar yet on whether Simi Garewal's fear of a 'takeover' is unfounded.