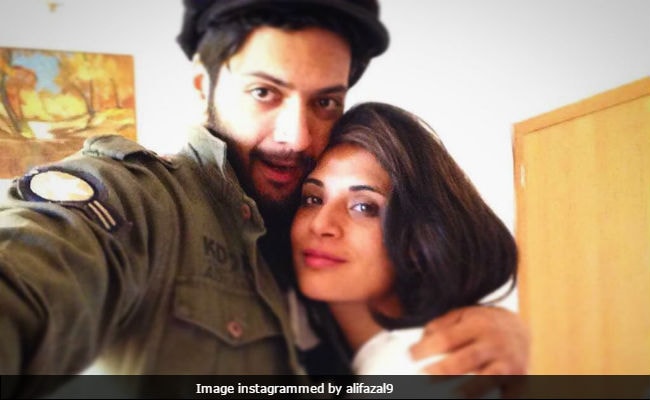 Highlights
Richa said she never wanted to talk about her relationship
'Knew this is how people would react,' she said
'People should use their brains before passing comments,' she added
New Delhi:
Star couple
Richa Chadha and Ali Fazal
have been "in a happy space since a long time" , as was told to
mid-day
, and no thanks, they do not need to spark "love rumours" to promote their new film
Fukrey Returns
. In an interview with
mid-day
, Richa Chadha addressed reports stating that her relationship with Ali Fazal is a publicity gimmick as part of promotional duties for her recently released
Fukrey Returns
. The 31-year-old actress set the record straight, telling
mid-day
that rumours of an affair with Varun Sharma (who plays Choocha in the movie) would have worked out better in favour of the movie than with Ali Fazal.
Choocha is known to admire the deadly Bholi Punjaban (the character Richa Chadha plays) in the movie. Ali Fazal and Richa Chadha co-starred for the first time in 2013 film
Fukrey
, since when
they are said to be dating
. "Ali and I never wanted to talk about [our relationship] publicly because we knew this is how people would react. People should use their brains before passing comments. I hope they get the right message after reading this,"
mid-day
quoted Richa as saying.
Ali Fazal and Richa Chadha
have never really confirmed their much speculated relationship
status but it was in September this year, when the actor posted a loved-up selfie with Richa, saying: "
Hai toh hai
". Earlier this year, the
Fukrey
co-stars featured in top trends after Richa Chadha dropped by at the premiere of Ali Fazal's
Victoria And Abdul
at the 74th Venice Film Festival. They were also photographed walking around hand-in-hand. Richa and Ali dropped all hints about being a couple at the premiere but never affirmed it to the media and now, she told
mid-day
that "it was obvious that I would not go so far if we were only friends". "But I feel it's always good to avoid conversation about it as it preserves the sanctity of the relationship," added Richa.
Previously, Both Richa and Ali dismissed rumours about the
3 Idiots
actor had a "secret girlfriend somewhere", tagging the reports as "fiction" and "misogynistic." Richa and Ali's
Fukrey Returns
, released almost two weeks ago, has made over Rs 60 crores so far.