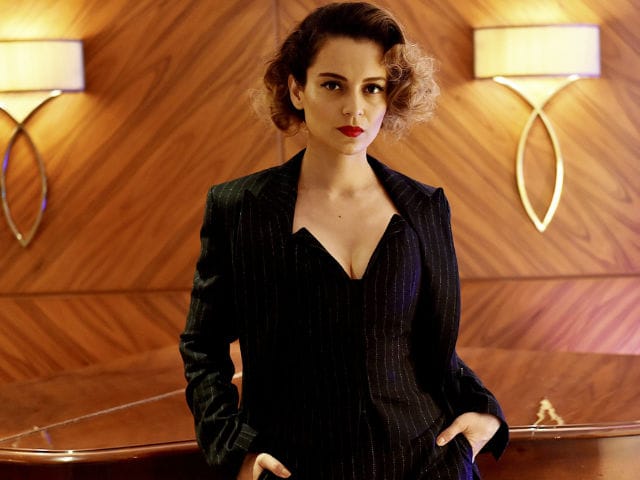 Highlights
Kangana says comfort is good but "too much comfort" isn't
"Personal relationships will come in the way of your work," she said
She said there's a fine line between being friendly and over-friendly
New Delhi:
Actress Kangana Ranaut, whose personal and professional relationships are scrutinized and discussed in great details, told news agency PTI that she prefers to keep her work environment "strictly professional." Kangana, 29, believes that all working women should develop an "I Mean Business" attitude if they want their colleagues to respect them. "There should be a comfortable environment on set. But I won't recommend one should form personal equations at work. I don't do that as I feel it will come in the way of your work. Comfort with co-stars is good but too much comfort is not good. It is good to be formal at work.
I prefer sticking just to my work
but at the same time I like being someone who is approachable," Kangana told PTI. Kangana Ranaut's
Rangoon
, co-starring Saif Ali Khan and Shahid Kapoor, will hit the screens on Friday.
"I don't say it only for movie sets, I recommend it to all the women as I believe when you come with 'I Mean Business' attitude, and you get respect. I feel that respect is very important to operate in the most dignified way. We keep complaining about the fact that we don't get respect but I believe one need to maintain the dignity. There is a very fine line between being friendly and over-friendly," she added.
While Kangana Ranaut may now say she is 'formal' with colleagues in the workspace, she has been known to
have dated at least one co-star
. She made 2009 film
Raaz: The Mystery Continues
with Adhyayan Suman, her boyfriend of the time. She has also alleged that
she dated actor Hrithik Roshan
, her co-star of the films
Krrish
and
Kites
.
If rumours are to be believed - and judging from quotes both actors have given in interviews - then Kangana's equation with her
Rangoon
co-star Shahid Kapoor
hasn't been all that pleasant either
. Reports of a 'cold war' while filming were boosted when Kangana said that she was the "third hero of
Rangoon
" and Shahid told
DNA
: "Why doesn't she say there are
three heroines in the film
? Is there anything less in being a heroine?" In another interview, Shahid told
DNA
: "I have to tell you that Kangana makes up things in her head." To which she retorted in a separate interview to
Pinkvilla
: "That line he must have borrowed from Hrithik."
However, Kangana Ranaut has also
generously praised her co-stars
, telling PTI that Shahid and Saif are "amazing actors" and filming
Rangoon
was one of the "best experiences of her career." Kangana Ranaut told PTI: "I feel you need very good actors to support the script because if every character is activated it will just bring the script alive and that is very important. That is what we as actors look forward to. We have a great cast. They (Shahid and Saif) are not just stars. They are amazing actors as well. I feel this is by far the best opportunity I have had to work with a great team."
Rangoon
, directed by Vishal Bhardwaj, releases on February 24.
(With PTI inputs)