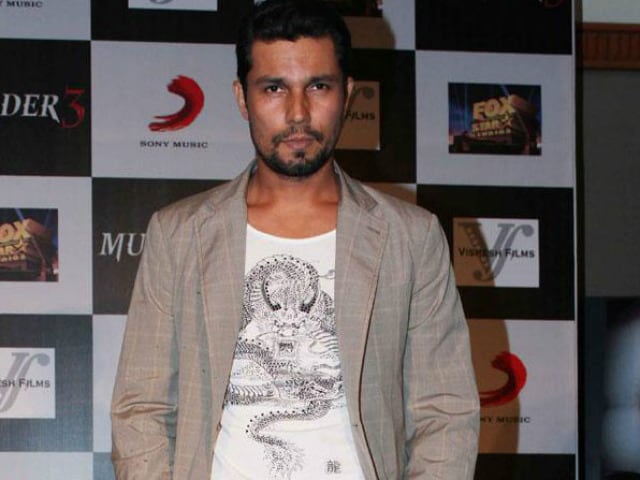 Kolkata:
Randeep Hooda, who believes that "intolerance" was always there in the country, said that the ongoing controversy on the issue is being "sensationalised" and "politicised".
"It's always been there, in isolated incidents. But because there is much more reportage, it's in the foreground now. It's sad that people are trying to get mileage out of it and the media is sensationalising it. I don't think it should be sensationalised because it encourages more intolerance," Randeep told the media in Mumbai.
The actor was in the city to celebrate the success of
Main Aur Charles
, in which he portrays the character of notorious serial killer Charles Sobhraj.
When Randeep was asked to comment on the controversy, the
Highway
star criticised politicians for using the issue as a plank in elections.
"They are being highly politicised by politicians to score brownie points from voters. I don't think they really care. The same government which was in power for 60 years is criticising it," he added.
A host of well-known writers, filmmakers, scientists and historians have returned their awards as a mark of protest against the growing 'intolerance' in the country, following recent events like the lynching of a Muslim man in Dadri of Uttar Pradesh over rumours that he had consumed and stored beef, the murder of Kannada rationalist scholar M M Kalburgi and the police "raid" in Delhi's Kerala House.
Recently, Shah Rukh Khan has been called a 'Pakistani agent' and compared to 26/11 mastermind Hafiz Saeed by BJP leaders Kailash Vijayvargiya, Sadhvi Prachi and Yogi Adityanath, following his comments on the issue. SRK, who was speaking at a Twitter townhall organized by a media house, had said: "The country is becoming increasingly intolerant. Respect those who returned government awards, but (I) won't return mine." (Also Read:
Salman Khan on 'Shah Rukh Pakistani Agent' Comments: We Are All Indians
)