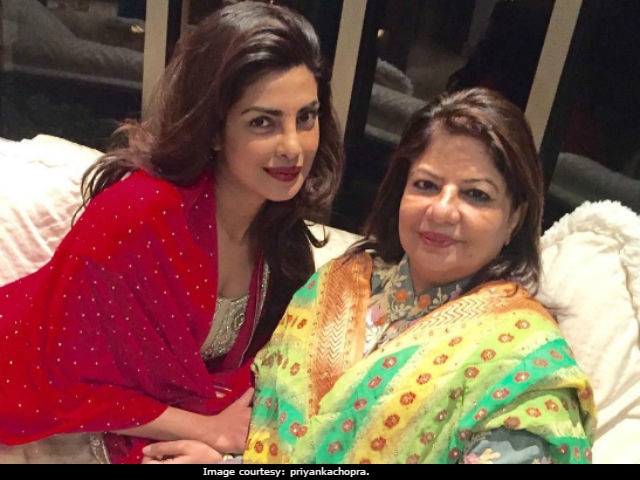 Highlights
'Priyanka is carrying her traditions with her,' said Ms Chopra
'She has not become a foreigner,' she added
'I am quite a parent for her,' she also said
New Delhi:
Actress
Priyanka Chopra has now attended the Oscars twice
, presented at the Golden Globes this year and appeared on international talk shows with Jimmy Fallon, James Colbert,
Jimmy Kimmel
and Ellen DeGeneres. Priyanka also won at the People's Choice Awards twice in a row for
Quantico
, the US television show which makes her a well-known name in the West. Priyanka headlines
Quantico
as FBI recruit-turned-CIA agent Alex Parrish.
Priyanka's mother Madhu Chopra
revealed why she thinks Priyanka is a hugely popular figure in the West, reported news agency IANS. Ms Chopra said that despite Priyanka's achievements in the international arena, she is
desi
at heart. "I think Priyanka is carrying her India, her culture and traditions with her, which is what is making her so special over there (in the West). She has not become a foreigner," Ms Chopra told IANS. The 34-year-old actress is also set to make her Hollywood debut with
Baywatch
, co-starring
Dwayne 'The Rock' Johnson
.
Priyanka's mother also added: "The modern India is this - who have the values and talent, and who can pick on any industry in the world. If you see, everywhere Indians are doing so well. It's just that Priyanka is more prominent, we know more about her. But everywhere we see Indians are doing remarkably beautiful."
Talking about her equation with Priyanka, Ms Chopra told IANS: "I am quite a parent for her. I am more of mum. With her dad. They were friends. She takes care of me. There was a time when I was her mother, and now she's my mother." Priyanka lost her father, Dr Ashok Chopra, in 2013, when he died after battling cancer.
Priyanka
spends most of her year in New York
shooting for
Quantico
, which is currently in its second season. She spent her much-deserved holiday during New Years in India, left soon after and has been busy with the series of Hollywood award shows she was invited to. Ms Chopra, who confessed she misses the company of her daughter, will soon visit her in April in the Big Apple. Back home, Priyanka Chopra was last seen in Prakash Jha's Jai Gangaajal. She is expected to sign two new Bollywood films this year. Priyanka plays the lead antagonist in
Baywatch
, which releases this year.
(With inputs from IANS)