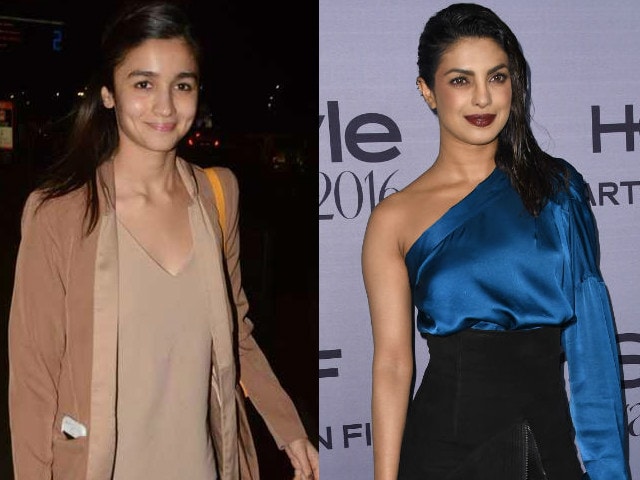 Highlights
'Priyanka has come a very long way,' said Alia
'She is an entrepreneur. I have that same drive,' added Alia
'Right now I want to find my feet in Bollywood,' said Alia
Mumbai:
Actress Alia Bhatt says that for her, Priyanka Chopra is an entrepreneur and she finds her very inspiring. At a recent event, Alia was asked if she would like to produce regional cinema like Priyanka Chopra did with
Marathi film Ventilator
. Alia's response was that she would love to back regional films. "Priyanka has come a very long way and it's great what she has done. She is an entrepreneur and I have that same drive as she is an inspiration for us. I would love to do such work but right now I want to focus on acting," she told IANS.
Priyanka Chopra-produced
Marathi film Ventilator
garnered critical applause and scored well at the box office when it released on November 4.
Ventilator
might also be remade in Gujarati, Tamil and Punjabi revealed director Rajesh Mapuskar.
The 23-year-old actress said that she would like to try her luck in every medium.
"I want to try my luck all over whether its Chinese cinema or whatever, I want to do it all. Right now I want to find my feet here," she said.
Currently Alia's work in Gauri Shinde-directed
Dear Zindagi
is being highly appreciated.
Backpacker Alia said that when she is not working on a film, she prefers travelling.
"As an actor, I am happy with the kind of films I am doing but it's like sometimes I am getting damn good films, sometimes I don't get anything interesting like I have not signed anything now. So, it all depends. I love to travel. When I am not working, I love travelling and it's a huge learning experience for me," she said.
Alia Bhatt starred as an aspiring cinematographer in
Dear Zindagi, co-starring Shah Rukh Khan
. Meanwhile, Priyanka Chopra is busy with the second season of her TV show
Quantico
. Back home, she has not signed a Bollywood film yet.