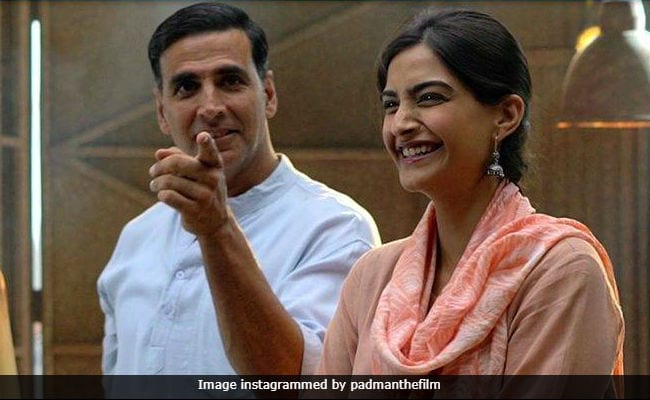 Highlights
Sonam Kapoor says that she a 'director's actor'
There is no point in just doing entertaining cinema any more, she said
Sonam Kapoor had a pivotal role in Balki's PadMan
Mumbai:
Actress Sonam Kapoor is riding high with her lauded performance in
PadMan
. She says it is important for her to play roles that reflect the social conscience in these "difficult times."
Excerpts from the interview:
Ques
: Congratulations, Sonam. After
Neerja
,
PadMan
is another high point in your career. Girl, you are evolving fast. So much at such a young age...
Sonam
: Thank you. But I am not that young any more... I have only directors like Ram Madhvani (
Neerja
) and
R Balki (PadMan)
to thank for this. I am a director's actor. And I've never shied away taking on a role for its length.
Neerja
was all mine. But in
Bhaag Milkha Bhaag
, I was there for just a brief playing time.
Now
PadMan
is definitely not all mine. But
it's important for me to be part of cinema that addresses important social issues
. There is no point in just doing entertaining cinema any more. That, to me, would be very
khokhla
(hollow). There has to be a relevance to it beyond just having a good time at the movies.
Ques
: Why do you say that?
Sonam
: Because we are going through very difficult times. It's a really difficult phase for us women. Those of us who have a platform and a voice, must use it to express what we believe in.
PadMan
addresses itself to the question of menstruation. It's a huge issue for a majority of woman in our country. It didn't take me long to say yes to
PadMan
. And I am so glad I did it.
Ques
: Farhan Akhtar was telling me he would not do roles that set the wrong precedent in today's troubled times. He wouldn't play a serial rapist or a child molester just to be challenged as an actor. Your take?
Sonam
: I wouldn't mind doing a negative role provided it doesn't glorify the character or make her negativity a virtue. As an actor, we are put in a sensitive spot nowadays. I have to showcase my personal ideology while at the same time I need to do parts that challenge me as an actor. My next release
Veere Di Wedding
has me having a lot of fun with my female co-stars.
Ques
: Were you competitive on the sets of this chick flick with your co-stars Kareena Kapoor Khan, Swara Bhasker and Shikha Talsania?
Sonam
: Not at all. I am not competitive at all. If I was, the trajectory of my career would be different. No... And it's not a chick flick. It's a dramedy. We girls had a lot of fun shooting
Veere Di Wedding
. I was working with Kareena Kapoor for the first time. I absolutely adore her. She is so beautiful and just not conscious of her looks.
Ques
: You are also working with your father Anil Kapoor for the first time.
Sonam
: Yes, in a Yash Raj Films project that I'm shooting right now. We have done two ads together. But this is the first time we are actually shooting a feature film together. All I can tell you at the moment is that it's a different person I am shooting with as compared with my father at home.
Ques
: Has he let his beard grow grey to look like your father?
Sonam
: Why don't you ask him? You get to speak to him more than I do.
Ques
: In
PadMan
, your relationship with your father played by actor Sunil Sinha is very special. Did you borrow from your own relationship with your father?
Sonam
: No. I didn't have to. The relationship was so beautifully written in the script. And my co-star was such a wonderful actor. I love working with actors who are more accomplished than me. It's the only way to learn on the job.
Ques
: Your character Pari is the catalyst who propels the protagonist's aspirations. Did you ever realise your role would be so pivotal?
Sonam
: I firmly believe there is a woman behind every man's success. And why just a woman? Every successful man or woman has to have a support system.
Ques
: The menstruation issue is still kept under wraps in our home. The film makes us think about why we need to be so secretive and squeamish about a natural bodily function?
Sonam
: It is a social conditioning. We are so used to talking about these things in hushed tones. We hope to open up a conversation with this film.
(As told to Subhash K Jha)
(Except for the headline, this story has not been edited by NDTV staff and is published from a syndicated feed.)