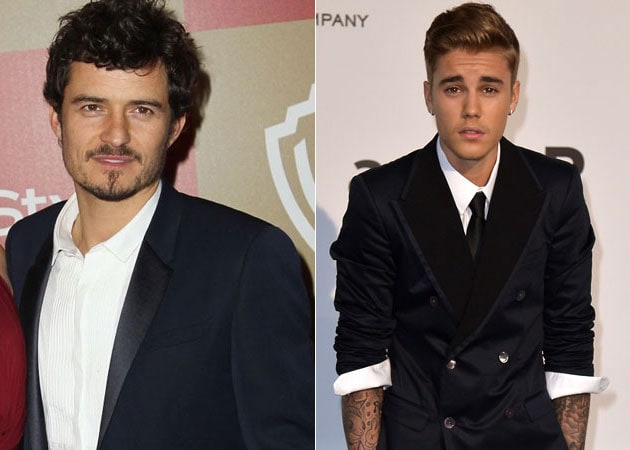 Highlights
Actor Orlando Bloom reportedly got into a brawl with pop star Justin Bieber in Ibiza.
According to E!Online (will hyperlink), Orlando allegedly took a swing at the singer after Justin made a rude comment about Orlando's former wife, Miranda Kerr.
The fight allegedly occurred in a restaurant full of celebrities. Eyewitness say that Orlando threw a punch and Justin ducked. The crowd applauded as Justin left, added the eyewitness.
Justin and Orlando share bad blood since 2012 when Justin partied with the latter's then-wife Miranda Kerr at a fashion show.
Earlier this year, Orlando Bloom was spotted with Justin Bieber's on-and-off girlfriend Selena Gomez.
The fight between the actors quickly went viral online. Here's what Twitter had to say on the matter:
Don't know what to tell ya... I love @justinbieber ... And @jessielennie loves #OrlandoBloom @OfficialHTL pic.twitter.com/ERoJqxKbGJ
— Raha Lewis (@Rahalewis) July 30, 2014
What? #OrlandoBloom tried to punch #JustinBieber?...and he missed??? How is that even possible??? LOL...#facepalm
— Jason A Moodley (@TheMoodleDoodle) July 31, 2014
Thats what came to my mind when I heard about the fight between Orlando Bloom and Justin Bieber.hobbit pic.twitter.com/5i23AkAjm3
— BattlefrontStarWars (Battlefront_es) July 30, 2014
'Curse you for breathin; ya slack-jawed idiot;Orlando Bloom and Justin Bieber come to blows http://t.co/RDMhg3m8gS pic.twitter.com/EmVPj3fIfK
— Tahira Mirza (@tahiramirza1) July 30, 2014
Lmao so justin bieber got punched by orlando bloom, and the people in the restaurant clapped when bieber left...what...
— Zinnia Cheema (@zinniacheema) July 31, 2014
Moments I never want to end: a pounding hot shower, eating great chocolate, and picturing Orlando Bloom punching Justin Bieber.
— Cindy Begel (@CindyBegel) July 31, 2014
New Delhi:
Actor Orlando Bloom reportedly got into a brawl with pop star Justin Bieber in Ibiza.
According to
E! Online
, Orlando allegedly took a swing at the singer after Justin made a rude comment about Orlando's former wife, Miranda Kerr. (Also Read:
Justin Bieber Jealous of Selena Gomez's Friendship With Cara Delevingne
)
Justin continued to taunt his rival by posting a photograph on Instagram, in which the actor appears to be crying at the opening night of his Broadway show in New York City last September.
Several hours earlier, he posted and deleted a picture of Australian supermodel Miranda Kerr, who split from Orlando in October after three years of marriage, sparking speculation he had a fling with her.
The fight between the two celebrities allegedly occurred in a restaurant full of celebrities. Eyewitness say that Orlando threw a punch and Justin ducked. The crowd applauded as Justin left, added the eyewitness.
Justin and Orlando share bad blood since 2012 when Justin partied with the latter's then-wife Miranda Kerr at a fashion show.
Earlier this year, Orlando Bloom was spotted with Justin Bieber's on-and-off girlfriend Selena Gomez.
The fight between the actors quickly went viral online. Here's what Twitter had to say on the matter:
Don't know what to tell ya... I love @justinbieber ... And @jessielennie loves #OrlandoBloom@OfficialHTLpic.twitter.com/ERoJqxKbGJ

-- Raha Lewis (@Rahalewis) July 30, 2014
What? #OrlandoBloom tried to punch #JustinBieber?...and he missed??? How is that even possible??? LOL...#facepalm

-- Jason A Moodley (@TheMoodleDoodle) July 31, 2014
'Curse you for breathin' ya slack-jawed idiot'Orlando Bloom and Justin Bieber come to blows http://t.co/RDMhg3m8gSpic.twitter.com/EmVPj3fIfK

-- Tahira Mirza (@tahiramirza1) July 30, 2014
Lmao so justin bieber got punched by orlando bloom, and the people in the restaurant clapped when bieber left...what...

-- Zinnia Cheema (@zinniacheema) July 31, 2014
Moments I never want to end: a pounding hot shower, eating great chocolate, and picturing Orlando Bloom punching Justin Bieber.

-- Cindy Begel (@CindyBegel) July 31, 2014