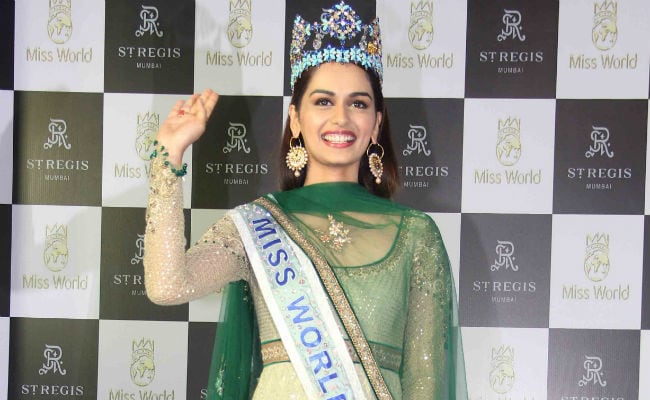 Highlights
"As of now so I really can't say anything about Bollywood," said Manushi
She's drawing on her medical training to advocate for menstrual hygiene
Manushi, however, would eventually like to work in an Aamir Khan film
New Delhi:
Will Miss World 2017 Manushi Chhillar answer
if Bollywood comes calling
, as Aishwarya Rai Bachchan and Priyanka Chopra did before her? The 20-year-old pageant winner,
now back in Indi
a after being crowned in China, says she has no celluloid dreams as of now - that said, she would eventually like to work in an Aamir Khan film. Manushi Chhillar, a former medical student from Haryana, is currently addressing press conferences across cities. In Mumbai, she was asked about a possible career in films. "Bollywood is just something that is not on my mind as of now so I really can't say anything about it," IANS quoted Manushi as saying.
For now, Manushi Chhillar is drawing on her medical training to advocate for menstrual hygiene. "Sanitary pads are a necessity for every woman, so they should be available at a low cost. Indian women must have access to safe and affordable menstrual hygiene management," she said, according to
mid-day
. Through her year-long reign as Miss World, Manushi will travel across four continents to raise awareness about hygiene for menstruating women.
But she's not ruling Bollywood out entirely. On Manushi's wishlist - a film with Aamir Khan. "I would like to work in an Aamir Khan movie because I think he has really challenging roles. His movies have a message and connect to the society. So, that will be very interesting to do," she told the press on Monday.
Apart from Aamir Khan, Manushi also has a favourite actress: "In actresses, my personal favourite is Priyanka Chopra." Manushi is the sixth Indian contestant to have been crowned Miss World and a direct successor to Priyanka Chopra. Priyanka Chopra won the Miss World pageant 17 years ago in 2000.
Priyanka and Aishwarya are former Miss Worlds who since built massively successful careers in showbiz. Diana Hayden and Yukta Mookhey also had brief stints as actresses.
Manushi Chhillar was crowned Miss World in China's Sanya city earlier this month and touched down in Mumbai on Saturday. "I thank each and everyone who came to welcome me. It was overwhelming and I am grateful for your support. Thank you for showering me with all your love," Manushi told PTI after the grand homecoming.
(With IANS inputs)